According to a study we made up, referring a friend to Yoco is the number one way to be a better friend – and you get paid for doing it! That's right, when you share Yoco with someone you know, and they're able to join us and grow, we reward you in cash. Not just for getting us a new customer, but for helping us on our mission to open up commerce for more of the Self-Employed. And as a Yoco customer yourself, you know how great Yoco's been for helping your business to grow: it's so much more than just a payments platform, it's a whole ecosystem of resources and connections. I could go on and on, I'm sure you could too. Turns out doing good has never tasted this sweet!
How does the Yoco Referral Program work?
Each Yoco customer gets a unique referral link (from the Yoco Portal or App) – whether you're using a card machine or one of our online products, it's all the same. You can send this link to fellow friends who are self-employed, and who you think would benefit from getting Yoco. Anyone who signs up using your unique referral link will be eligible to get you that ka-ching. Find out exactly how, here.
Yep! Your friends will ALSO get R100 off whichever Yoco card machine they buy, thanks to your unique referral link. They'll want to be your friend forever! Plus, you can refer as many people as you like – that's right, we're talking about unlimited rewards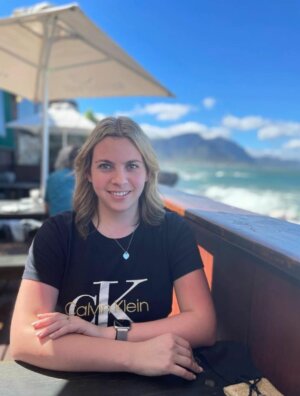 How should I go about referring my connections to Yoco?
Selling something to a friend, especially when it impacts their business, is not to be taken lightly. Even when it's just a restaurant recommendation, we all tend to feel partly responsible for their experience. That's why it's so important to know exactly why you think Yoco would help your self-employed friend. When you refer someone to Yoco, you're not just getting them a discount on a card machine – you're introducing them to a whole new (improved) way of doing business.
Once the person you referred to Yoco has successfully joined, bought a card machine, transacted, and been paid out over R1000, Yoco will pay you R500! You'll get the cash in the same bank account that's linked with your Yoco profile, and it'll be part of your total settlement amount for that day's payout. 
How will I know how my Yoco referrals are going?
Each time someone signs up for Yoco and buys a card machine using your referral link, you'll be notified – so you'll always know what's up. Once someone who signed up with your referral link transacts enough to be paid out R1000, we'll send you another email letting you know it's time to get rewarded with that moolah! You'll also always be able to track exactly what's happening with your referrals in the Yoco Portal or App.
Get in on getting rewarded for being a lekker friend, and join Yoco's Referral Program today!