We understand that time is crucial for small business owners. It often it feels like there aren't enough hours in the day to focus on the things you need to focus on, like building and growing your business.
Luckily we have a solution for you: Real-time data. We've made your business data easily and conveniently accessible through the Yoco Business Portal. Now you can spend less time on admin, and more time on your business.
In this article we list the top 3 most used features in the Yoco Business Portal and how they can help grow your business.  We also take a look a how some of our Yoco Family members use it to make running their businesses a bit simpler.
Business Portal Dashboard
All the data you really need, at a glance. This is ideal for understanding what's happening in your business and identifying areas that need some attention in order to improve.
The Business Portal Dashboard will give you an overview of important data, such as:
Payouts: The date and amount of the last payment you received from us, and the date and amount of your next payment.
Recent transactions: The latest payments you've accepted with Yoco.
Total sales: Compare yesterday's sales to today's and see comparisons for different time periods.
Average sale amount: The average bill/basket size paid for by your customers.
Popular items: Which of your products sell the best.
Returning customers: The proportion of new versus returning customers, and the number of sales and sales volume for each.
Staff performance: Track the number and Rand value of sales each of your team members makes.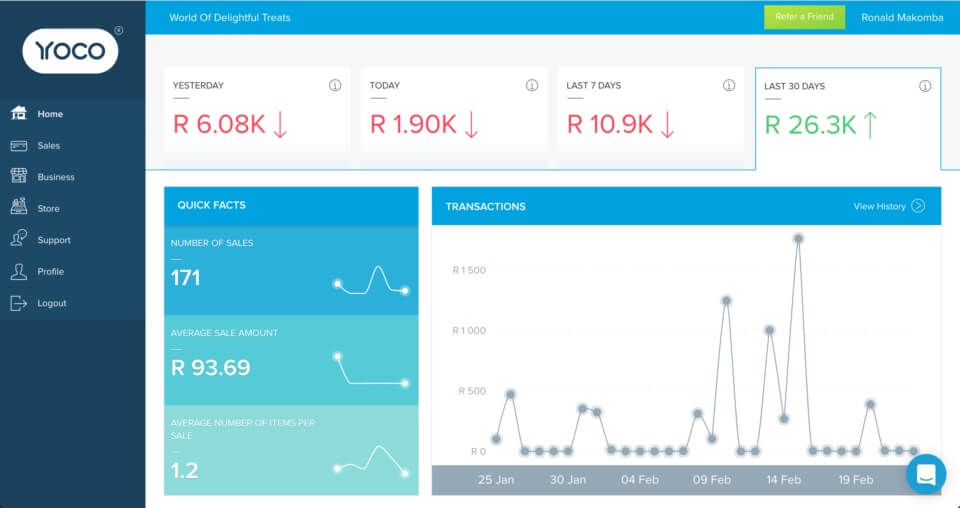 Simply click on the relevant sections for more information on your payouts and transactions. To see more in depth data on your sales, you can visit your Sales Report.  
Sales Report
Connie is the founder of 
Max Consumables
, a business based in Centurion that provides innovative solutions to problems with camping equipment. In the 'Sales Report' section of the
Business Portal, Connie can see a list of his products and how these products perform. He can rank them from highest to lowest quantity sold, or by revenue generated. He also gets a view of his gross sales and how many sales were made, broken down by cash and card. Another helpful tool is the 'date picker' where Connie can compare sales across various periods. For example, he can see if they sold more tent pegs this camping season compared to last season.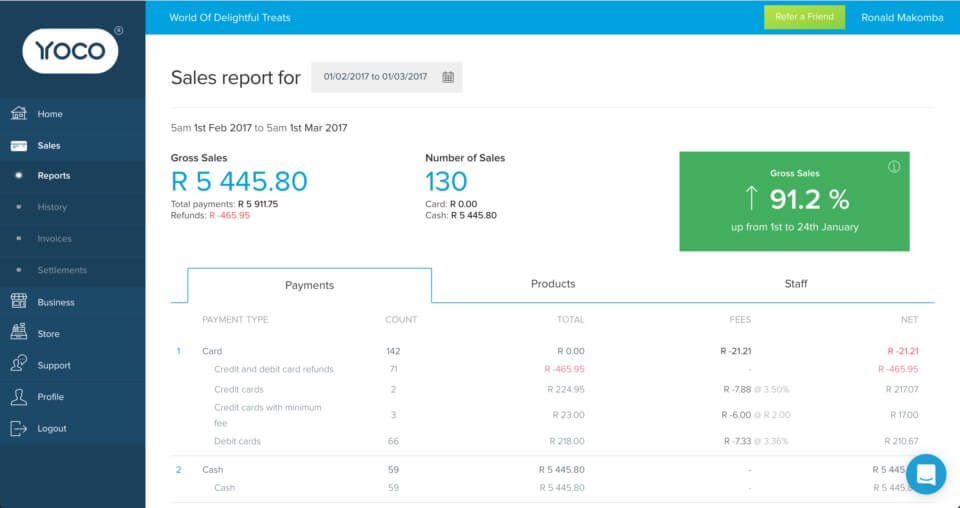 Sales History
While doing your cash up and monthly reconciliation, the 'Sales History' section is your new best friend. You can export all your sales data into an Excel sheet in one quick step. You can then analyse your sales without having to count slips. Think of all that time you can save!
In your 'Sales History' you can also see a list of all your card and cash transactions. This includes the date, time, amount and the staff member that made the sale. You'll be able to filter your list by any of these variables.
If needed, you can issue a refund via SMS or email, and see any notes made to the transaction.