The vendors of Cape Town's beaches are treasures of the city. Well known to locals and tourists alike, these colourful and confident characters have been an institution for nearly 30 years. Their smiles, snacks and sharp set of rympies to match make the beach a happier place.
Business has been consistent, but the roving vendors, operating under Vincent Cedras's JK Vending have always been reliant on cash. Gerald, who serves as manager, has been in the game for over 27 years.
Henry, one of the senior salesmen working with JK Vending, has called the Atlantic Seaboard his office for 19 years. Having arrived at the beach to enjoy himself and got roped into selling snacks to help out his step-sister. He had fun and hasn't looked back.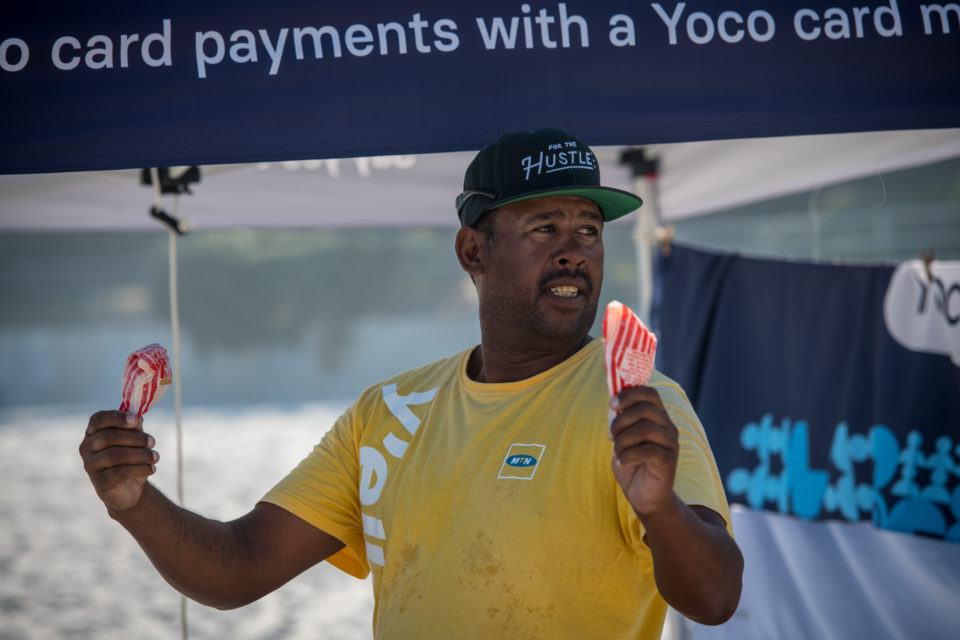 As with many businesses, the key to JK Vending's success lies with its people. There's demand, of course. Beachgoers bask in the sun and lounge in the sand for hours at a time. They need to stay hydrated. They get hungry. On a 30º+ day, nothing hits the spot like an ice cream colder than the Atlantic itself.
But the real reason JK Vending has gone the distance is the vendors themselves. They're some of the warmest, funniest and most endearing people you could ever meet. Extroverts in the purest sense.
"Every day, you meet different people. You communicate with people, you have to know how to communicate with people. I've been a cleaner, working with people. I've been a painter, working with people. Now I'm on a beach, working with people. I'm happy", says Henry.
Just because something works, it doesn't mean there isn't an opportunity to improve
Yoco took the decision to give JK Vending a boost in the fourth quarter of 2018. We provided them with two free Wireless Pro card machines, making it possible for their customers to pay with card for the very first time.
We also provided them with co-branded boardshorts in collaboration with Granadilla Swimwear, and a gazebo which acts as the main store where card payments can be made through a Yoco device.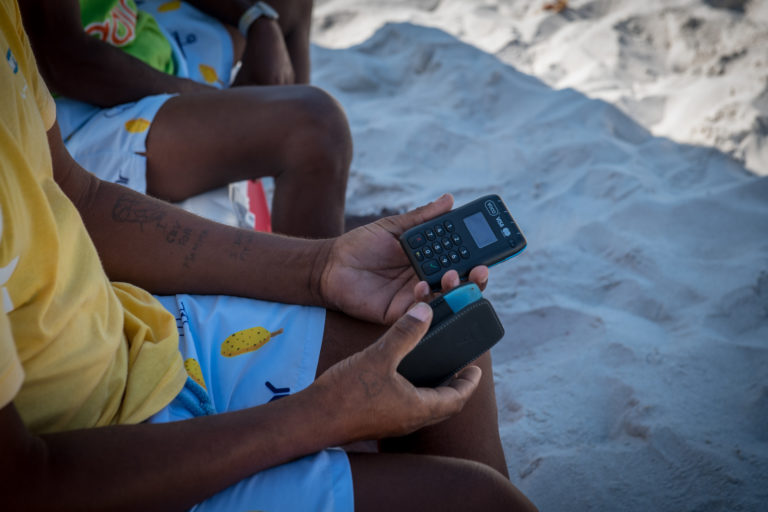 JK Vending's business was transformed overnight
"For us, the card is the best thing. Sometimes the people don't have the cash for the chairs or umbrellas. Lots of people want the stuff, the ice creams, the cooldrinks, but most people don't carry cash anymore. We're making more business, more people is happy."
The fact that Gerald's clients no longer need to draw cash before arriving is great for business. They've accepted over R40 000 in card payments since December 2018. Or the equivalent of over 2 000 lollies. Gerald's a happy man.
"I'm not lying to you, it's a good thing. The business is growing. We making more money for the business; for the guys that's selling. Even if I was doing 70 chairs a day before, now I can do 100. Because of Yoco! I can pay the guys almost double sometimes and say to them 'thank you for the day!' It's not hard, there's no problems."
The vendors aren't the only ones delighted with the change
Beachgoers from home and abroad are all loving the fact that they can arrive at the beach cashless and enjoy the full extent of JK Vending's inventory.
To illustrate his point about how happy customers are that they can pay with card, Gerald shared an anecdote about a group of students from overseas. Holidaying in Cape Town, they visited the beach more than once. Between the first and second visit, there was an incident that made them weary of carrying cash.
"Often the people from the hotel or tour company is telling the tourists not to carry cash because of the robbings. Last Friday there was youngsters from Holland. I understand them because of Afrikaans you see. When I told him they could pay with the card, they were so happy."
Being able to accept card payments hasn't just made it easier and safer for customers. Gone are the days when Gerald had to carry thousands of rands in his own car to deposit each day. Now, most of the money is already in the bank before a customer finishes their lolly.
It begs the question: why didn't JK Vending seek a card payments solution earlier. One of the reasons is that the big bank policy of fixed monthly repayments and rental fees don't suit most small businesses. Let alone those whose success is so heavily dependent on the weather.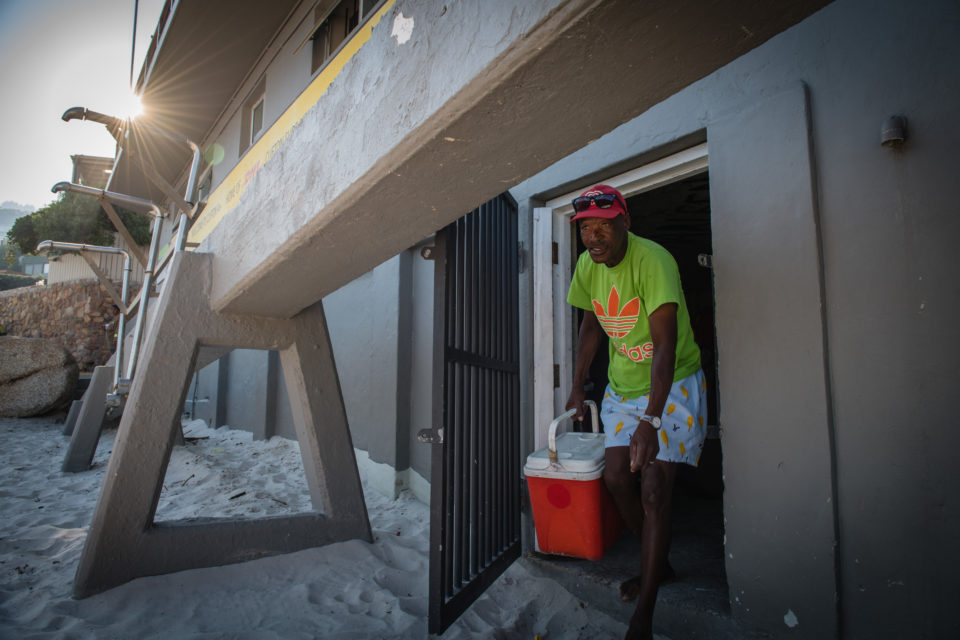 Cape Town's temperamental weather is well documented. What you can count on, however, is cold, wet and rainy conditions from June to August. A stark contrast from the consistently clear climate enjoyed from early spring to mid-autumn. Predictably, JK Vending slows right down during the miserable months. So much so that Gerald leaves the province.
"My wife got a house in Upington that she got from her mom. I stay there for three, four months until season starts. I'm a qualified painter so I can paint, I can do paving there, peoples that know me from the beach can give me jobs. But if I don't work there, I'm relaxing in the vaalrivier with my child and enjoying a holiday after maybe eight months on the sand."
It's not all sunshine and sandcastles out there
Doing good business and keeping customers happy can be difficult. During season, JK Vending opens for business at 07h00 each morning and shuts up shop at 18h00. That's a legal obligation – trading after 18h00 goes against the terms of their trade permit from the City of Cape Town.
In the summer, the sun goes down after 20h00. An Atlantic Seaboard sunset is best viewed from the sand. Understandably, there are people who want to enjoy the view from their deck chairs. Getting the chairs back from difficult customers can be a challenge.
"Sometimes you get people that are rude on the beach. You have to handle that. We have to explain that the permits go up, the rates, they cost a lot. We pay almost R12 000 a month to have 100 chairs! You explain everything and try be nice. Sometimes we have to take a loss to make a sale."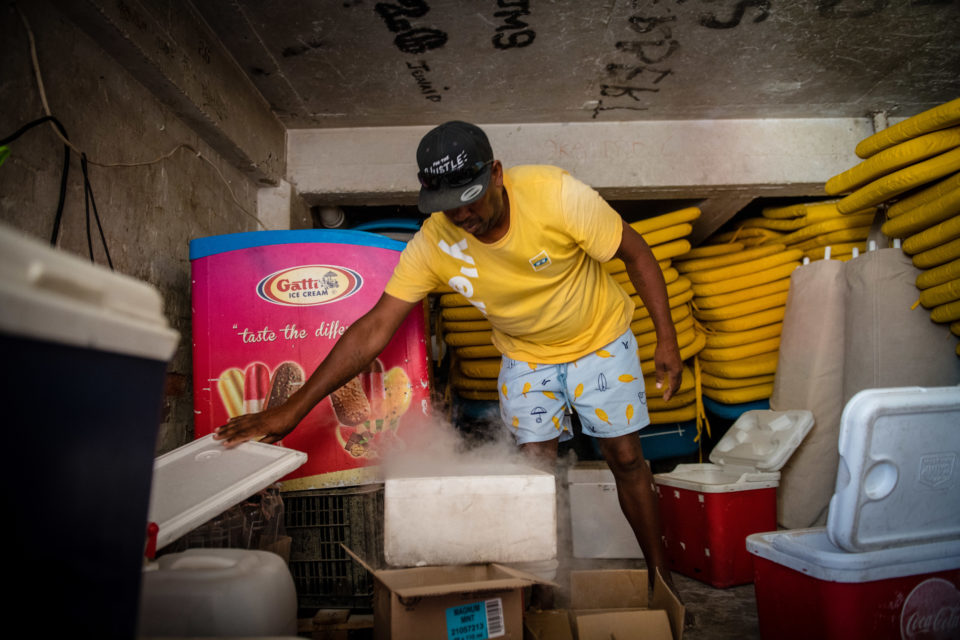 We're talking to professionals with many years of experience. Not everyone appreciates their sharp sense of humour, but they know how to read the crowd. They treat their customers with respect. In their own words, it would be difficult to do good business otherwise.
The sense of humour they're famous for is crucial to their success. It's borne of the competitive environment they work in, always needing to outsell the next vendor. It's an incredibly tough place to succeed. When Henry finds himself having a bad day, his thoughts turn to why he's out there in the first place.
"I come here for one purpose – to put food on the table and I enjoy being with the people, make business, then go home with something for my family. It allows me to buy what my son needs for school, church, school, instead of sitting at home scratching my head. I don't want my son to grow up like I did. That's why I'd rather go and work the hard way. He must go further than me."
Overall, things are looking up and the gents are feeling good
In fact, with an influx of tourists and guaranteed great weather making February being their busiest month on average, there's a tangible sense of optimism under the gazebo.
Cash payments on Cape Town's beaches are a thing of the past and JK Vending has recorded two consecutive months of record profit. There's plenty to be positive about. Gerald, Henry and the rest of the gents are more optimistic than ever. And they were kind enough to give us a rympie.