Sharnick Khan triumphed over retrenchment and followed his Kim K dream.
It was a cold, wet and gloomy day for Sharnick Khan, a young man who had just been told his services were no longer needed in an offshore oil rig.

The year was 2015, and Sharnick Khan had come home with a retrenchment package and a lot of hunger. With those very same hungry eyes, he looked to his mother, who had been in the clothing manufacturing business all her adult life, and asked her for assistance in becoming the man we know him as today. 
Growing up, Sharnick was a happy child. His parents did everything for him and made sure he had what he needed, but unfortunately, when he hit his matric year, his family went through financial trouble. From there, he went to work on container ships overseas.    
He started his career working on container ships as a cleaner and worked his way up to able seaman. From there, he got to work on the oil rigs. He put in the hours, and he finally got an opportunity to get his crane operator's licence. Unfortunately, just before he got his licence, he got retrenched. 
"I grew up in an environment where my mother manufactured clothing and worked as a dressmaker. I never thought I would take the same journey because I started my career working offshore."
Just like many big brands, Sharnick Khan started his fashion business at home with little resources, no business degree, no mentorship, or any funding. With the unemployment rate  on the rise, Sharnick asked his mother to show him how to produce quality apparel that he could sell to his clients and the local community. 
Sharnick embarked on his manufacturing journey at home in Ottery with his business partner, where they founded SNS Fashion. They had few resources, and they had to cut their clients' garments in his room. From there, they would drive 14km to Strydfontein, where they had their screen printing setup, then drive another 14km to Lavender Hill to manufacture the garments. For an entire year, this was their business, but Sharnick knew this was not sustainable.
He told himself that the following year things would be different; he would get his own space where he had printing, cutting, and manufacturing under one roof. The plan was set, and the expansion would come the following year, but alas, growing pains were unavoidable. Sharnick's business partner did not share the same vision, tough choices had to be made, and they went their separate ways. Sharnick had to change the brand and register the company under a different name, and so, in 2019, Kim K Apparel was born.
"It took six years to get to where we are today, to get the fit, the cut, and the patterns just right; that's what Kim K is all about – quality."
Sharnick's vision was simple, create quality apparel that looks good and fits well on anyone. Staying true to his nature of always finding a way, Sharnick approached many corporations and promoted his brand. 
"I wanted to start a brand that can outlive me. Clothing is going nowhere, so I thought to myself, my kids like fashion, my partner and I like dressing up, let's start a brand and call it Kim K Apparel. My partner's name is Kim, and her surname will soon be Khan, so Kim K made sense."
Sharnick is a family man with seven children, and he hopes that the Kim K brand will evolve into a family business. Today, Sharnick Khan and his soon to be wife, Kim Khan, are the proud owners of Kim K Apparel. 
The dream is huge, and he's only just getting started, so late nights, early mornings, weekends, days off, and holidays are just some of the many sacrifices Sharnick has had to make. He has come far, and one of the fruits of his labour is seeing his brand being worn by celebrities, representing the Kim K brand on a national level.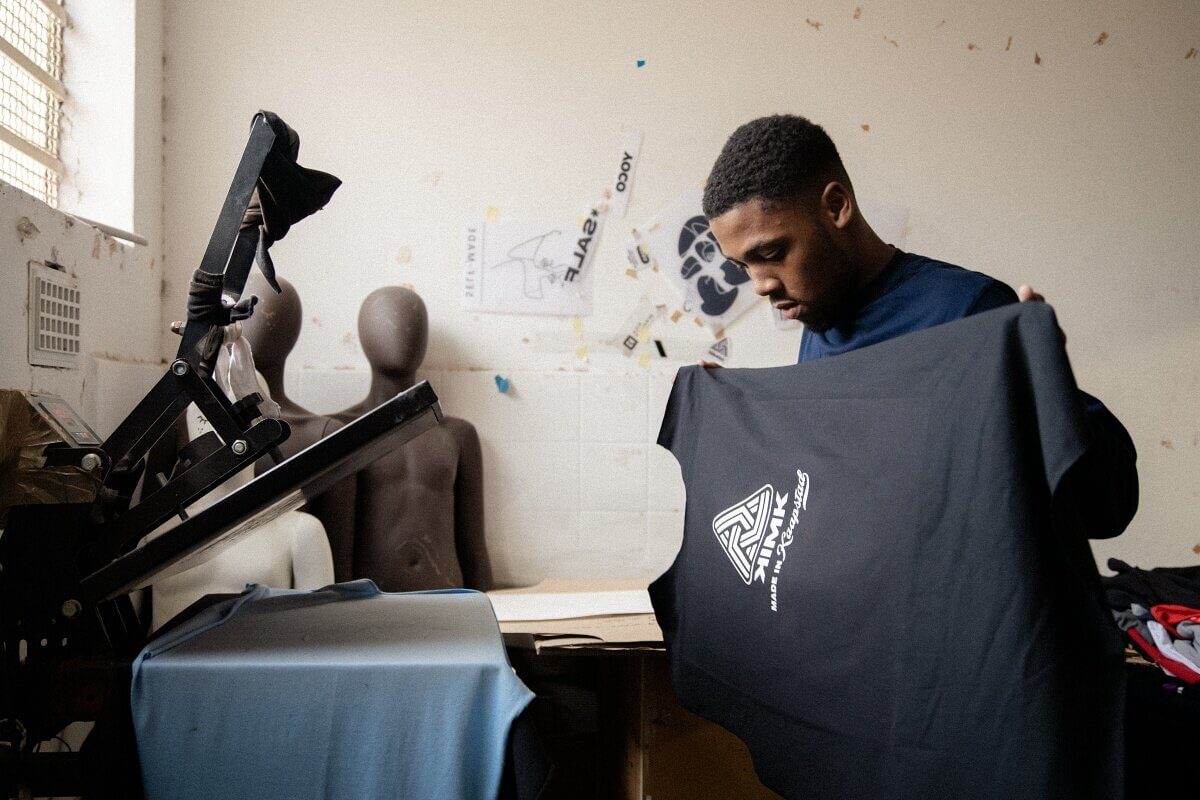 Knowing when it's time to grow
One of the many business lessons Sharnick had to learn was that pleasing everyone is like performing unimaginable feats on a tightrope –  it is dangerous and impractical.
In the beginning, Sharnick's hands-on, do it all approach worked, but it wasn't sustainable.  He stopped being the guy that cuts and prints and started focusing on building relationships, working on his marketing and all the necessary admin to ensure his business grows in a way that makes sense for him, his colleagues and his family. 
Currently, Kim K Apparel is located in Cape Town, and this is where people can see the whole process from cutting and printing to manufacturing, all done under one roof –  Sharnick's dream realised.  
"Yoco has been one of my biggest clients; they have approached me to manufacture their Swag Store clothing line, and I'm very proud of the quality of work I have been able to make for them. Every item on the Swag Store is manufactured locally, and this has helped my business with cash flow which allows us to hire more people and grow the business. Yoco also assisted us with our online platform through the Yoco Store, it was simple and easy to use. We just needed to upload photos of our merchandise, put a price tag next to it, and our customers can easily see what we sell, make an order and pay online. This is a game-changer for us because we had just come out of the level 5 lockdown, and we needed an online presence."
Commitment, blood, sweat, and tears have culminated in a stylish and premium brand. At one point, Sharnick's dream seemed unattainable; today, he's living the dream and hopes to see his brand in many shopping malls across South Africa.
"Like I always say Kim K, for the win ma bru!"