Getting your business noticed online doesn't mean having a fully fledged e-commerce store. For small business owners, selling online can be done by starting small! Here are our tips for improving your online visibility using simple, free tools to boost your business. 
What is online visibility?
'Online visibility' refers to how easily your business can be found online, and how prominently it is featured amongst competitors. 
Online visibility is important for any business, no matter how small, because it's a major driving force for sales. The faster and easier it is for customers to find you online, the better chance you have of growing your sales.
Importantly, in a post-COVID world, a good web presence will make it easier for you to communicate and interact with your customers as business goes digital and low touch. It can all sound quite complex but it's not as daunting as it seems with loads of free, helpful tools and support at your fingertips. So let's look at some of the ways to take your offline business digital and improve your online visibility. 
More than a business listing, a Google My Business account offers your business a world of new opportunities and online visibility – completely free of charge! This incredible suite provides you with:
A Business Profile, which will appear on Google search

Customers are directed to your door with Google maps

Personalise and make your profile pop with photos and special offers

Connecting with clientele is as easy as a click – call or message features are built in with your listing

Google reviews and star ratings are prominently displayed

Access to analytics and free features help you see exactly how your customers are connecting – from where they click to how they follow.
Designing and building a website can be an expensive and time consuming task, and one which should be invested in at the right moment for each business. As a first step into the world of doing business online, all you need is a simple, smart one page website and Google has a safe, reliable and super easy solution.
Their free website builder tool allows anyone to create a beautiful and functional website in only a few minutes. It's the perfect way to dip your toes into the web-waters, without the fear of making costly mistakes or wasting precious energy.
This will give you the time and space to decide whether an e-commerce site is right for you, and to gather the resources and skills you need to create a bigger website if you want to. A simple one pager might be the end solution for your business and as long as it works for you, it doesn't need to be more complex.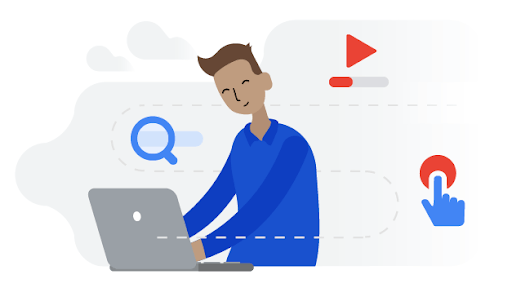 Google Digital Garage
Learn the fundamentals of digital marketing and how to market your business online with Google. There are a range of free online courses to help you learn the lingo, set objectives, and start selling online. 
Invest in pay per click (PPC) Google Ads
If you have the budget, Google ads will help you reach a much wider audience. The pay per click aspect means you only have to pay when customers actually click on your advert, as opposed to other models of online advertising where you pay for your advert to be displayed. How it all comes together to work practically is based on fancy algorithms and picking the best keywords for your business – check out this video for a breakdown, or browse these related support topics.
Enter the #ReStartWithYoco competition and stand a chance to win R1800 in Google Ad credits as part of a grand prize valued at R20 000. Click here to enter >>
Get active on social media
Social media marketing has become an essential part of doing business, whether you're an offline or online business. A presence on social media builds confidence and trust in your brand, creates a space for you to explore your business personality and connect with customers, and stimulates conversation and buzz around your products or services.
This doesn't mean you have to juggle every possible social platform though – rather, choose one or two that match well with what is most appealing about your brand. For example, a flower shop would make a more powerful impact on a visual platform like Instagram; or a barbershop might benefit from longer posts with haircare tips on Facebook, with a complementary Pinterest account that showcases their unique styling portfolio. The bottom line, whichever avenue you choose, is keep posting valuable content regularly, and be ready to engage and talk about it with your growing following.  
But social media isn't good for marketing only. Facebook for Business has a range of built-in free tools to help you get ahead. 
With Facebook Business Manager, Creator Studio, and Instagram Shoping, you can set up and run an online business without a website. 
Schedule Facebook and Instagram content from Creator Studio


Set up a customer service plan with auto-replies from Facebook Messenger


Create and manage adverts for Facebook and Instagram


Upload and manage a product catalogue that connects to your Instagram Shop


Connect a Whatsapp Business account to chat with customers


Host live video sessions to demonstrate products or services 


Grow a community using Facebook Groups 


Build a positive reputation using Facebook Recommendations and Reviews
How to get paid online without an e-commerce website
If you're doing business online without an e-commerce site, you might be wondering how to take online card payments. Yoco's Payment Request is the perfect solution for you.
How does it work?
When customers are ready to make a payment, all you have to do is a generate a sale inside the Yoco app and choose the "pay by link" option when prompted. You will be able to share a unique link with your customer via text or email, which allows them to pay you using their card in a safe and secure transaction. 
Sign up is free and only takes a couple of minutes. And best of all, if you don't need a card machine, you don't need to buy one right away. 
Encourage online reviews
Amassing online reviews is an essential part of managing and growing your business's online presence. Not only does it boost your SEO ranking, but it also builds trust through social proof and keeps expanding your brand reach to all the reviewers' followers – there has never been a faster way to get powerful referrals. 
Don't sweat the bad reviews either: every business has bad days (and we can learn from them), and how you handle a difficult customer or comment on a public forum can actually win people over. The trick is to be humble, sincere and think positively about what you can do to turn things around. That being said, the more reviews you have, the less each individual comment will affect your overall reputation – as long as you have a good track record and show you care, you can't go wrong.  
List on online classifieds or marketplaces 
Last but not least, it's a fairly quick and simple task to get listed on some of the country's most popular and active online classified websites – think OLX and Gumtree, where there are different types of listings with several free options to get you started. If you're in the accommodation and tourism trade, check out sites like Expedia and Bookings.com, which have become many travelers' first stop for browsing options. These super-powered marketing machines have a widespread audience, and a solid reputation to boot – taking much of the hard work out of advertising, or sourcing fresh interest. 
Small Business Directories
Join the Yoco Support Small directory and list your business for free. Plus, if you're already a Yoco merchant, you can sell vouchers and set up a donations page too! 
You can also register your business for a chance to get featured on the Visa Small Business Directory.