Health and beauty business owners breathed a sigh of relief as the
latest changes
to level 3 restrictions allow for the careful reopening of the industry. This sector has been
dramatically affected
by lockdown, and has been sorely missed by millions of frazzled (and disheveled) South Africans. 
1. Hygiene overhaul
Before anything else, critically assess every corner of your premises and come up with a
deep cleaning plan
. Take stock of all chemical supplies, and update your selection for the
best protection
– grabbing loads of alcohol-based hand sanitizer too. Once you've carefully crafted unique hygiene protocols for your workspaces and equipment, put up signs or posters to help remind staff and signal your commitment to safety for clients. The newly released
regulations
stipulate that hand washing/sanitizing stations must be provided as customers enter the premises, and all high-touch areas must be sanitized at least every 30 minutes. Therapists must wear full-face protection (like visors), refresh towels, and wash and disinfect their hands, equipment, PPE and all surfaces in their workspace after each client (using at least 70% alcohol solution). No food or beverage amenities are allowed.
2. Team (zoom) huddle
Re-engage your staff by contacting everyone you want on board, finding out what their circumstances are (health, high risk family members etc), and if they would be interested in coming back to a job that will look and pay very differently than before lockdown. Next, you'll need to train those that remain, on all your updated hygiene and social distancing practices – also provide guidance on handling customer COVID-19-related questions, and how to kindly and professionally reinforce social distancing and hygiene rules. Brainstorm unique solutions for your business clientele, and discuss a rotating schedule that minimizes contact between core teams.

3. Social distancing infrastructure
Reimagining the layout and spacing of your premises will be unavoidable. Some of the most urgent considerations will be making room for 1.5 metres between clients; if necessary, installing physical plexiglass barriers between salon stations; delineating social distancing guides with tape or paint for constant reminding; making provision for safe disposal/sanitizing of
PPE
in-between appointments; and managing wait-lists with a strict no early-entry policy (no waiting areas or soft furnishings, no extra guests allowed and sending friendly reminders will help). The new
regulations
stipulate the opening of windows for proper ventilation, and ban head, neck and shoulder massages at the basin. 
4. Health screenings
Since much of the health and beauty industry is fundamentally hands-on in practice,
careful screening
before any physical interactions occur is crucial. Send a pre-appointment health questionnaire about early symptoms, particular COVID-19 risk/exposure, and any other information for tracing purposes. Include a friendly reminder to call and cancel 'if you're
experiencing symptoms
' (offer to reschedule for 14 days later, and check in on them after 7 days to show you care). 
On arrival, check every person that enters the premises for fever (with an infrared thermometer), and prohibit walk-ins with "by appointment only" notices. The same screening measures should also be applied to staff, at every shift and a record must be kept for inspection by the Labour Department and for tracing purposes.  
5. COVID-19 tips and donations
Many health and beauty businesses around the world are charging a small "corona tax" by slightly upping their prices to assist in their financial recovery and viability. 
And for good reason, as there are considerable added expenses associated with reopening safely: the supply of quality PPE (and proper laundering/disposing), cost and time of new cleaning regimens, always having enough hand sanitizer available for staff and customers, combined with the financial losses associated with limiting operating capacity. Plus, recovery from the devastating consequences of the lockdown's economic hiatus.

However, in South Africa this may not work as many people have reduced incomes. Instead, why not encourage your customers to tip employees who assist them or donate a little extra to the business? 
You can use Yoco's Payment Page option to make this process seamless.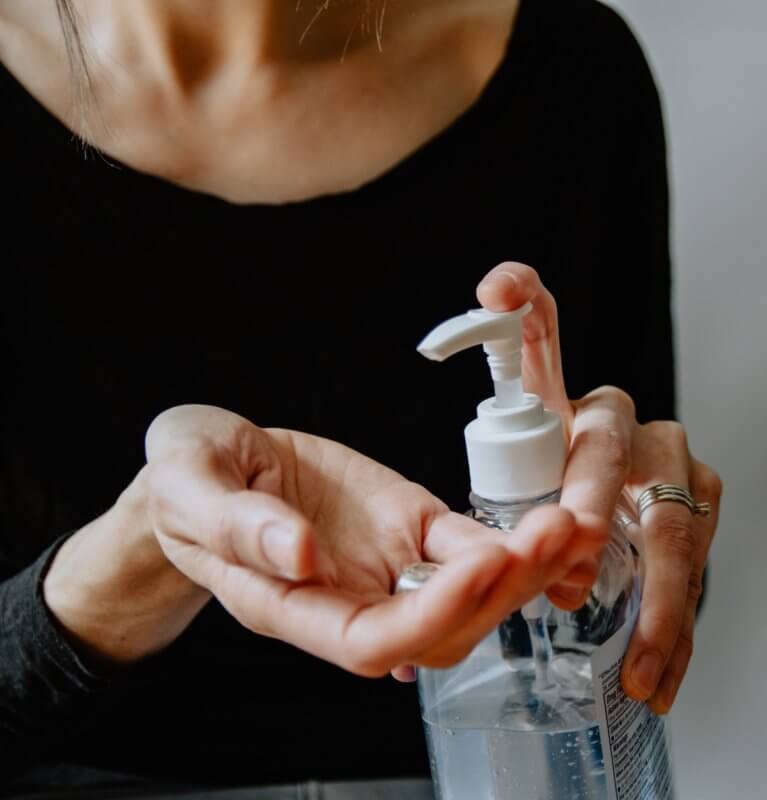 6. Going the extra mile
No matter the price paid, everyone still needs to feel like they got value for their money. Most households have also seen a dramatic plummet in disposable income, leaving little room for luxuries and self-care. Especially at the beginning, you'll probably be giving someone their first wellness treat or beauty experience in over one hundred days! Make sure to really roll out the red carpet and make each session special – your clients have been dreaming about this moment for a long time too.

7. Goodbye welcome desk!
It's time to totally reinvent the check-in process –  no more paper forms on clipboards with shared pens on strings. Rather send an email or text reminder about appointments with a digital form attached. There are so
many different solutions
for taking your health and beauty operations online, especially for automating the bookings process and staying on top of ongoing customer communications. We love the simplicity and synchronicity of
salonbridge
– seamlessly integrated with the Yoco platform.
Take no-touch to heart, and update your website to offer
online payment facilities
. Contactless is the way to go! For on-site payments, make sure your card machines are sanitized in between every customer, paying special attention to the keypad. The newly released regulations implore businesses to discourage the handling of cash, and insist on a pre-booking system for appointments. Be sure to ask customers if it is possible to tap to pay with their card to limit the amount of card handling that takes place. 
8. Rethink retail
Save on some floor space (and maybe fit in an extra customer) by stripping away all shelving and unnecessary display counters. Showcase product examples only, and keep all saleable stock safely in the back. Consider extending your retail offering while you're at it – expand the selection with some facemasks, sanitizers, hair clips, ties and any other items you have supply of. If you don't already have one, create an online store where customers can browse, pre-order and pay online.

9. Be loud and proud
Tell everyone about your newly rebooted business, and don't be afraid to brag (humbly) about your special COVID-19 preparedness. Use newsletters, emailers, social media or your website. The key is to make people feel safe enough to come back (and keep coming back). Post about absolutely everything from changes to operating hours, to your incredible sanitation process, to any new offerings or specials. 
10. Fool me twice
Once you've found your feet with reopening, get onto actively planning for another shutdown – just in case. Hold limited stock, don't over-employ too quickly, save wherever possible and stay vigilant about minimizing wastage and debt. While trading is allowed, keep marketing vouchers and loyalty programmes that could help cushion another sudden closure. Stay on top of
international industry news
and global innovations to help make health and beauty businesses more robust in facing the unpredictable months to come.