Getting a card machine can often seem like a daunting task, especially for small and new businesses. Many entrepreneurs question if it's worth their while, but once businesses start using them the benefits become clear (as Matblac owner, Matthew, discovered). Below are 5 reasons why being able to process card payments can be the difference between success and failure for a business.
1. Your customers prefer to pay by card…
…and therefore don't always carry cash. There are a few reasons for this.
It's safer
Street and public robberies increased by 
14.2%
 from 2013 to 2014 alone. With crime continually on the rise, more and more consumers are choosing to not carry cash. If cash is stolen, it's gone forever. Cards are protected by a PIN and the fact that they can be cancelled relatively quickly.
They can track their finances
Using credit or debit cards for transactions allows you to track your spending through statements, online banking and apps such as 
22seven
. It's a lot more difficult and time consuming to keep track of cash.
Links to loyalty programs
Many loyalty programs are now linked to the use of a credit cards. Standard bank's 
Ucount
, FNB's 
eBucks
 and many others encourage consumers to pay using card in exchange for rewards.
They don't need to queue at an ATM
Let's face it, nobody really wants to spend time finding an ATM and then still waiting in a line before they can draw cash. It's a lot more convenient and efficient to pay by card and use that time for something else (shopping, responding to emails, going for a walk – anything!). If someone wants to buy from you and they aren't carrying cash, you have to turn them away. There is so much work that goes into making a sale – sourcing and buying raw materials, creating the product or service, marketing – you should never get stuck at the last hurdle because you can't accept a customer's money.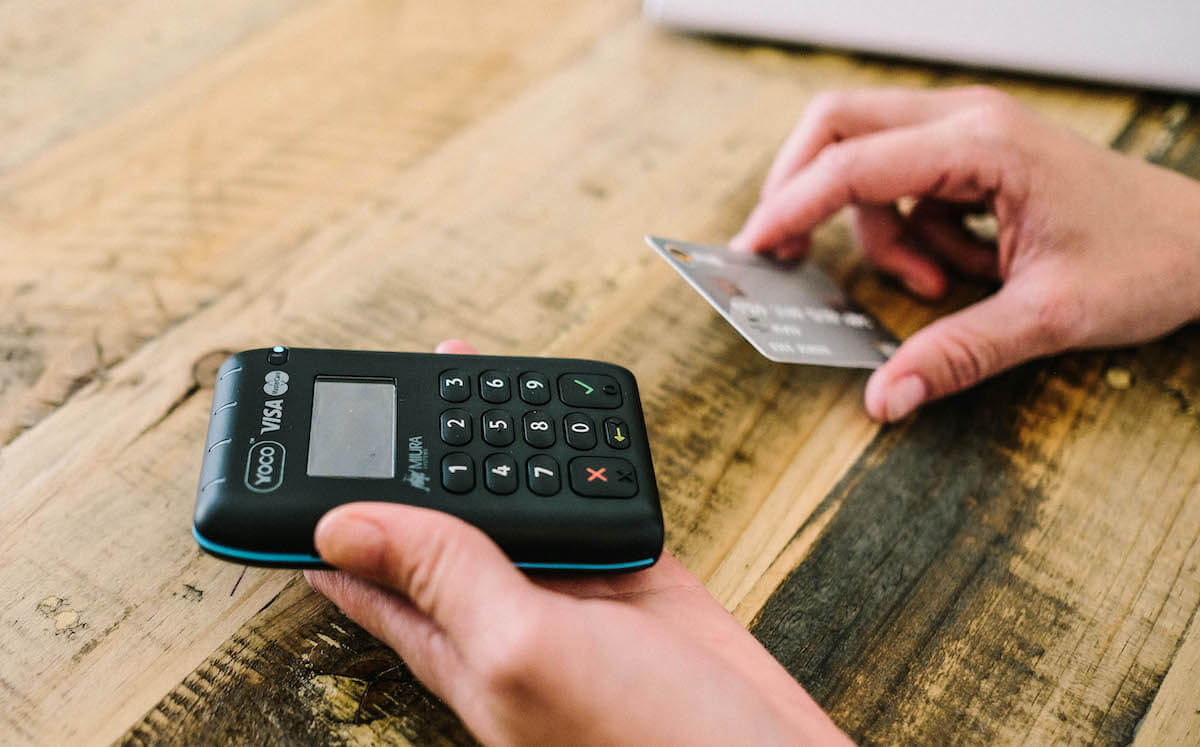 2. Your customers spend more when they pay by card…
… meaning you sell more.
A study by Dun & Bradstreet found that customers spend 12-18% more when paying by credit card than when paying with cash. This is because paying by card means easier access to capital on the spot, which means it's easier to spend money.
When you pay cash, you are limited to spending what you have in your pocket. With card, it's easier for a customer to make impulse purchases because they are not tied to what's in their wallets.
3. Your cash flow improves
When a customer pays by card, the transaction is processed electronically and is paid out into your business account quickly (usually within 1 – 4 days depending on your payments provider). You don't have to wait for customers to pay EFT's, wait for cheques to clear or go through the hassle of depositing large amounts of cash. This means that your payments cycle is much faster and your business enjoys better cash flows.
4. Your business becomes more credible
If you are a small business, you probably don't have an easily recognisable brand like McDonalds or BMW. You need other elements to demonstrate to the public that you are trustworthy.
By having a merchant account you are displaying to the public that you are a legitimate business. Consumers know that businesses are only able to receive card terminals if they are established and reliable. Also, the well-known Visa and MasterCard logos add to the credibility, as customers can see that you are associated with these trusted brands.
5. You're less likely to become a victim of fraud, theft or forgetfulness
Dealing with less cash is not only safer for the consumer, but for your business as well. It reduces the chances of being a target of theft and means you are not at risk if a customer doesn't send through an EFT. You also don't have to waste your time chasing down customers with outstanding payments.
US$1.35 million in counterfeit money was seized in South Africa between 2012 and 2015. Accepting card payments also reduces your risk of being exposed to the fake currency circulating in the economy.
At Yoco we're committed to helping businesses grow and thrive. That's why we've made accepting card payments a quick, easy and affordable process. Give your business the boost it deserves. Sign up to Yoco and start accepting card payments online and in person.