You're never too small to accept card payments – in fact, it's critical for all businesses, irrespective of type or size, to be able to accept electronic and mobile payments. If you're not sure, whether or not your business should be accepting card payments read this article: 5 reasons why your small business needs to accept card payments.
The COVID-19 pandemic has pushed cash aside as consumers have become more aware of 'dirty money' and shift to a new cashless ideal of contactless and card payments. 
The question though: How do you start accepting card payments? Where do you look? What are your options, and what will work best for your business? In this article, we're going to compare the different ways of accepting card payments and discuss some of the important considerations for small businesses. We'll cover traditional bank card machines, QR codes, mobile point of sale (mPOS) and other quick online solutions. 
Traditional Bank Card Machines
Also known as speed points or bank terminals.

These are the machines you're probably most familiar with. They're used at most large retailers, restaurants and other big businesses, and have been around the longest. You can rent a terminal from any commercial bank (Absa, Nedbank, Standard Bank, Capitec Bank and FNB) over a predetermined contractual period, and the rent amount is charged to the business, whether or not the card payment unit is used or not. Usually, businesses need to prove a minimum monthly turnover to become eligible.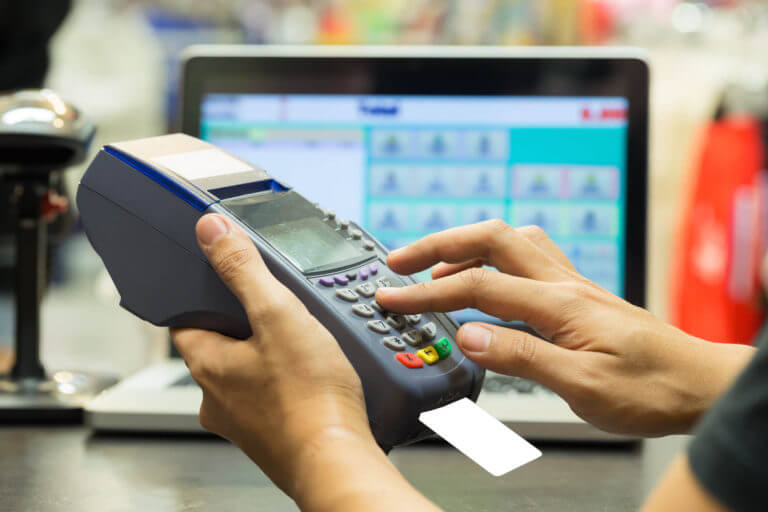 QR Code Payments
Also known by the names of the service providers, i.e. Snapscan, Zapper, and Flickpay.
QR Code payments work when the customer (buyer) has downloaded and installed the service providers app onto their mobile phone, and has a user profile with their credit card details loaded into the app. The merchant (seller) has a designated QR code for their business which is either displayed at their checkout counter or on the till slip. In some cases, a QR code with the specific bill amount embedded in the code is printed on the till slip. The customer simply scans the code via their app, enters the amount (where necessary), enters their security pin (not the same as their bank card pin) and pays.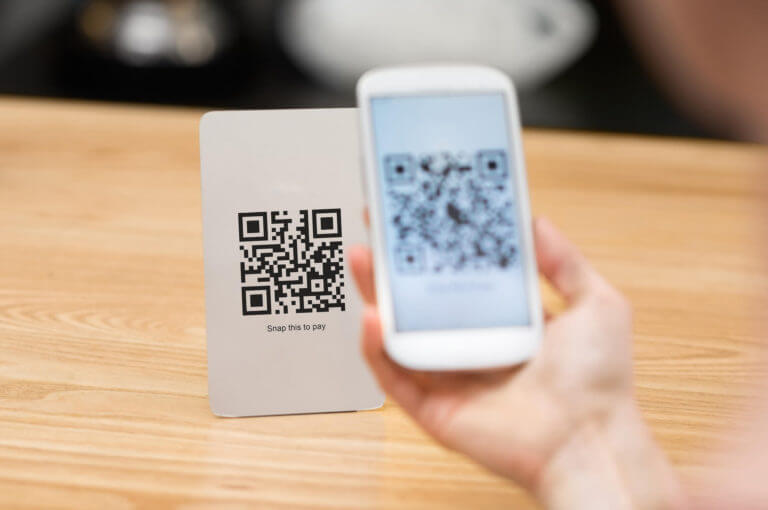 Mobile point of sale systems
Also known by the companies that sell them, i.e. Yoco, iKhokha, Zip Zap
Mobile point of sale systems requires an app on a smartphone or tablet that connects to a small card reader via Bluetooth or plug in via the headphone jack of the smartphone. They were created to reduce the cost of accepting card payments for small business owners. The merchant (seller) enters the sale amount in the point of sale app and the customer inserts or swipes the card on the mobile card reader. For the purpose of this article, we will focus on Yoco as the mPOS example.
mPOS systems in South Africa differ greatly, some of the less robust options only offer the physical card machine (and charge extra for limited extras). Yoco offers an all-inclusive package of free special features, like cutting-edge point of sale and stock management software, an online payment suite, and quick access to Yoco Capital after a minimum of one month trading.
Online card payment gateways
Also commonly associated with different service providers, ie Yoco, Payfast, Paygate, Ozow.
Online card payments are traditionally made possible by pairing a merchant account with an online payment gateway. The online payment gateway acts as a facilitator, allowing the customer's bank to communicate with the merchant's bank for the smooth transition of funds. One can think of the gateway as a digital version of a physical card machine, like you would see at a brick-and-mortar store. 
Different service providers charge varying fees for the use of their proprietary payment systems, and place immense emphasis on their transaction speed and anti-fraud measures. Online stores rely heavily on having affordable and reliable online payment solutions. Payment gateways usually require a level of technical skill to implement and are not always cost-effective model for small businesses who are getting started. 
 There are a number of ways to accept online payments without having an e-commerce store such as instant EFTs, and Yoco's recently launched Payment Request feature.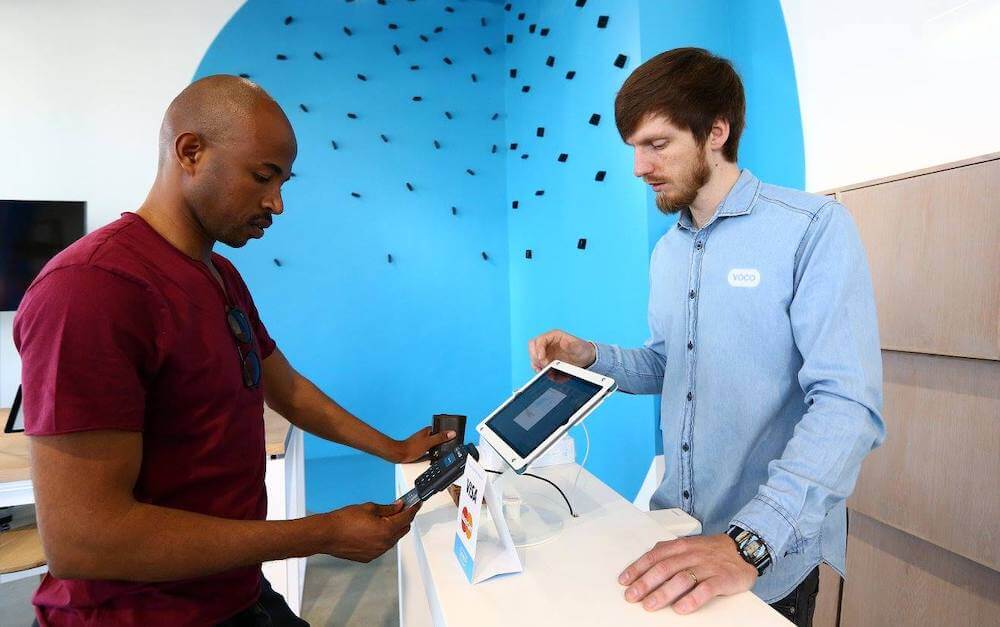 Factors to consider when choosing a card payment system
Which of these three payment options should you choose to enable your business to accept card payments?
Every business is unique and has its own set of requirements. However, there are common factors that affect all businesses that you should consider when selecting a payments platform.
1. How much will it cost? 
Typical charges include:  Device rental, or cost of purchasing devices, transaction fees, set up fees, rates for extra features, and cancellation penalties.
2. Contracts and duration periods.
Running a business can often be unpredictable, so you need to have enough flexibility to adapt your business model when you need to. Understand which service providers implement contractual agreements, and if so, familiarise yourself with the terms, conditions, contract period and termination allowances.
3. Do you need portable/mobile payments solution?
Will you only accept payments in your store, or will you need to accept payments on the go, at markets, expos or for deliveries?
4. What is the setup process and how long does it take?
Some service providers have a lengthier application and set up process than others. If you need a solution urgently make sure you check what the application, signup and setup process entails and an estimated time. Also, review online reviews and/or comments of the service providers – this will give you a better idea of what their customers are saying about them.
5. Who are your customers?
Are they young or old? Local or foreign? What works best for your customers? What is easiest for them? Your customers need to understand and trust the payments platform you use or they will not use it.<
6. What types of cards does the system accept?
If you're targeting international tourists, be sure to spend some extra time understanding which payments platform accepts foreign cards, and if so, which type of cards are valid. For example, high-end or fine dining restaurants may need to accept cards such as Diners Club International or American Express.
7. What support structure does the service provider offer?
Does the service provider offer after-hours support? Weekend support? Are you required to pay for additional support? And lastly, what support platforms are available – telephonic, email, in-app. It's critical to identify these points ahead of time, especially if, for example, your business operates in the evening, but the service provider only offers support during standard business hours of 9 am to 5 pm.
8. Do they offer any additional features?
Find out what features the service provider can offer to you. Do they go above and beyond simply offering a platform to accept card payments? For example, business analytics tools, integrations with accounting software programs or a point of sale system. Also be sure to ask if they have any future plans to enhance their platform. Keep in mind that although you may not need certain features now, as your business grows your requirements may change.
Key takeaway points for accepting card payments
In conclusion, the type of payments platform you choose depends largely on how your business runs and who your customers are.
Choose a traditional bank card machine if:
Your business is a large establishment with traditional POS requirements.
Your customers are fairly "old fashioned" and uncomfortable with changing their payment behaviour
You are willing and able to commit to a binding contractual agreement, with a fixed lock-in time period.
You don't want to own your card machines, but prefer to pay a set monthly rental fee, no matter the transaction volume in any particular period.
Choose QR code payments if:
Your customers are young and tech-savvy.
You typically sell items in a fast paced environment where customers appreciate self-checkout.
Trust that you and your staff can manage self-checkouts in crowded environments, and prevent situations where customers enter the incorrect amount or not actually paying for your products.
Choose Yoco as your mPOS payment option if:
You prefer to own the card machine by paying a once-off fee instead of committing to a contract or renting the reader.
You would like to be able to accept payments both in-store and on the go.
You need additional features which will automatically track your sales, give you business insights and allow you to accept online payments.
Choose to use Yoco
online payments if:
Your business needs to adapt to a new commercial landscape, in which customers prefer no-touch interactions with the businesses they support.

Your customers would appreciate a variety of payment options, depending on

their

preferences.

You'd like online payments to be automatically captured alongside card transactions, and to be seamlessly reconciled on the (free) Yoco app.

Any one of the following Yoco online payments products complements your way of doing business:

Sending a

Payment Request

– an online payment request is generated for each transaction and a unique link is sent to the customer. The client then enters their card details and easily makes payment from anywhere.

The convenience of a

Payment Page

– which allows multiple payments to be made via your business's personalised payments web page. The same link can be sent to any customer, who will enter their bill reference and card details.

You have a  WooCommerce WordPress online store into which you can integrate Yoco's

payment plugin

.
If you have any questions about payment platforms and the payments ecosystem, please complete this form and one of our consultants will contact you.
Editor's note: This blog post was updated to reflect information that is accurate as of 3 August 2020.