11 years ago, Railways was a tiny space measuring all of three metres by three metres. Today, the venue is a sprawling, colourful "home away from home" spanning over 800 square metres. Known for its brand of eclectic, bohemian decor, welcoming atmosphere, and live music acts, Railways is a beloved institution in Irene and beyond.
To understand the evolution of Railways, we have to travel back in time, back to when TJ Bryant was a first-year Psychology student walking around TUKS with a monkey on his shoulder.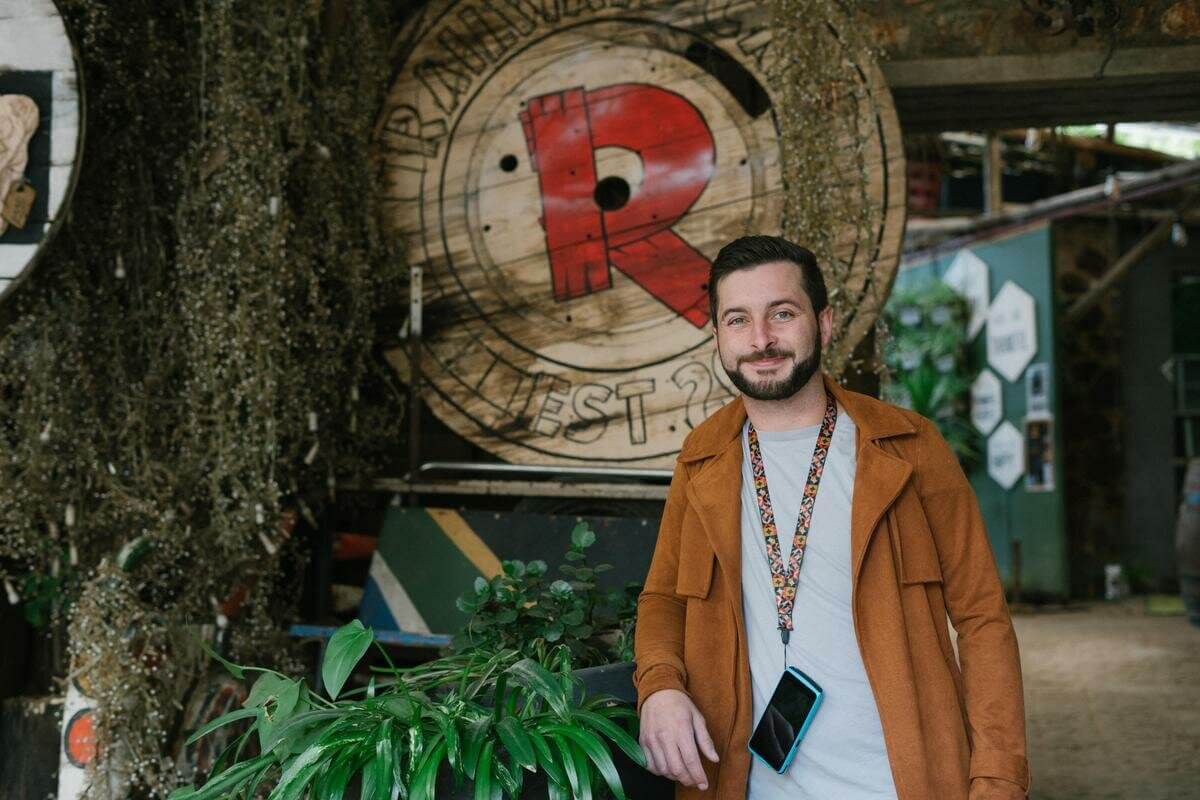 Yes – you read that right. Besides being a fixture on campus (and a welcome distraction from class), Rafiki the monkey would eventually be the catalyst for the conception of Railways. 
"I'd take him everywhere, and he became like my baby. But as he got older, he got a bit more mischievous…he'd run all over campus so it was very difficult to go to varsity with him as he'd go running free and wild and so, long story short, I quit varsity to raise my own child. My mom wasn't too impressed with me!" But as fate would have it, TJ's need to take care of Rafiki meant that the then 19-year-old had the chance to channel his curiosity about human nature into a once-in-a-lifetime opportunity: opening his own restaurant.
TJ's interest in people can be attributed in part, to his mother Tania Bryant, a psychologist who runs the non-profit organisation Makers Foundation, based on the same property that would become Railways. When space on the premises opened up, TJ, who'd been at a loose end after opting to care for his monkey full-time, jumped at the opportunity and into the unknown, opening the very first iteration of Railways: a three by three metre space selling tea and cake. 
As his confidence grew, so did his business, and soon TJ was incorporating live music into his offering. Not one for "stagnating", as TJ puts it, he enrolled in a hospitality course, which saw him juggling the day to day running of Railways with the rigorous demands of his training.
Once again, Railways called him back, and he dropped out to focus full time on what was becoming a fast-favourite amongst the locals — and beyond.
As any restaurant owner will tell you, the hospitality business is a never-ending money pit — but TJ had an advantage. Due to the fact that he was living with his parents, he was able to put every cent he made back into the business. Railways grew from strength to strength, and trading hours soon extended to seven days a week. 
Blood, sweat, and ingenuity — the Railways restaurant recipe for success.
TJ's belief in continuous growth – both personally and professionally – has been a constant in the changing face of Railways. In fact, his commitment to continuous reinvention is what would go on to save the venue from becoming another lockdown statistic. 
Railways is ever-evolving, its trajectory following TJ from his days as a footloose and fancy-free student to the devoted family man he is today. "As my life changed, so Railways has changed with me. I mean, we now have a colourful kids' play area," grins TJ.
A colourful home away from home, Railways is built on a foundation of relationships.
As well as its welcoming atmosphere, Railways has become synonymous with live music acts – an offering that unites patrons from all walks of life.
"Music is a universal language, bringing people who have little else in common together. There's absolutely nothing like 'finding' an unknown local act that you've never seen in your life, but who could give Ed Shereen a run for his money."
When asked about the re-introduction of live music into Railways' offering post-lockdown, TJ, ever the optimist, says:  "The effect lockdown's had on local artists actually worked in our favour, as we've been able to book artists that we've been trying to get for five or six years! I've realised how much we took seeing live music –  and the way it unites a group of people together – for granted. So it's that little bit sweeter now."
When level five lockdown hit, Railways' signature "scrappiness" became a lifeboat.
While some may have seen the lockdown as a chance to kick back and relax, TJ's "fear of boredom" saw him take on renovations and upgrades while hospitality businesses across the country shut their doors. "It was more for our sanity than for anything else, really," he muses.
As lockdowns eased up, trade resumed from Thursdays to Sundays, while the rest of the week was devoted to working on something new. Staff brainstormed regularly, cooking up ways to reinvent the Railways offering. "We asked ourselves: how can we enhance the customer experience? What will delight our patrons?"
Railways is more than just a venue and eatery, it's a restaurant with heart.
As the effects of the first lockdown rippled through the vicinity, Railways' sister operation (run in partnership with TJ's mom), The Kitchen of Compassion, ramped up operations. 
With a large population of homeless people, the Irine community was particularly hard-hit by the lockdown. "At the beginning (of level five lockdown), we had a lot of food that we didn't want to go to waste. But once that had been distributed, there wasn't an ongoing solution in place. Thanks to my mom's close network of connections made from her NGO work, we were able to get donations and sponsorships in the form of food, working hand-in-hand with the Salvation Army. The local community surprised me – they were the first in line to drop off donations – our front building was filled with goods. It was incredible to see. In fact, I think I cried (happy tears) for almost a year straight." The Kitchen of Compassion was open every day for over a year and four months, but after the third lockdown, sponsorships dried up as charities and NGOs across South Africa struggled to feed and support the destitute.
"We tried to self-fund as best we could, and reached out to patrons who really came to the party — one guy donated a Wendy House for a staff member who had been unable to pay his rent."
TJ's biggest concern, however, was being able to support his staff.
With dwindling funds, Railways' signature ability to reinvent itself was put to the test. "We dabbled in making PPE — turning the kitchen into a factory where we made face shields. It was a decision made on impulse but had we sat back and admitted defeat, we probably wouldn't be around today."
With over 50 staff members across numerous departments, the diverse set of humans that call Railways their place of work forms the heart and soul of the operation.
TJ's is the definition of a "people's person". It's this innate talent that is arguably the glue that holds the restaurant together. When asked what TJ has learnt during the decade-plus of Railways, he's quick to answer:
Ultimately, the story of Railways is that of "the little restaurant that could".
Ruminating on the lessons learned, and the impact lockdown had on Railways, TJ's tenacity shines through: "Even as a restaurant, you don't have to sit there and wait for customers to come to you. You go out there and try to find a way to generate an income. In any type of business, your revenue is never 100% guaranteed, so we tried new things, some of them failed, but others didn't. At the end of the day, at least we can say that we tried." And so, the beloved institution lives on.