Tyson Moutloatse's Junk Park is a success story born during lockdown.
Sitting on the edge of Alexandra on the busy Pretoria Main Road in Johannesburg's Wynberg is Junk Park. Specialising in fried chicken, the fast-food restaurant was established during the first lockdown in March 2020 by Tyson Moutloatse and his business partner.
Housed in a double-story building with an unassuming black facade, the restaurant features an open kitchen downstairs, a bar upstairs, and as a VIP area with an inviting atmosphere that Tyson describes as "a friendly thing [that's] not a formal set up" adding that "people need to feel like they own the space but still respect the space".
Born and raised in Alex by a single father, Tyson learned a lot from him, as well as from his surroundings. "He was a hustler. It also turned me into a hustler and the streets taught me a lot. I never really grew up with role models," he recalls. 
"I grew up seeing situations I didn't want to see myself in. That led me to who I am today."
His love for food and cooking was born out of necessity, with Tyson deciding to start cooking because he didn't like the meals his father prepared. "I realised that my dad couldn't really cook!" he laughs. "I wanted to try different things and eventually I fell in love with cooking and I told him he doesn't have to worry about cooking anymore."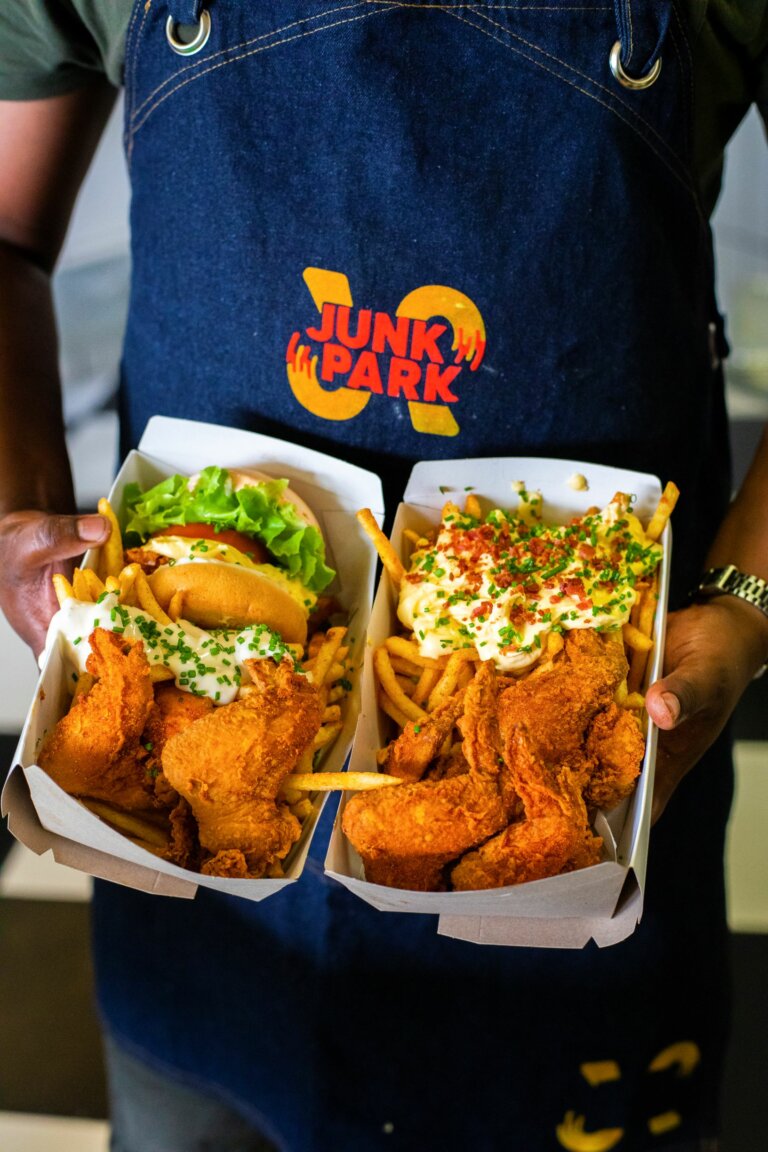 Although he had developed a passion for cooking, Tyson instead started a construction company during his final year in high school and worked in the construction industry after having matriculated. He then studied law, a degree which he completed despite a lack of interest. It was this disinterest and his continued fascination with the food industry that led him to attend culinary school at night during his final year as a law student. "From there, I didn't look back. I realised, this is my journey, this is where I want to be," Tyson recalls.
Tyson's first foray into the food industry was in 2012 and involved servicing local township markets like Tembisa Food Festival, Cookout in Soweto, and Shack Market in Alex. From there he continued working in the food industry gaining valuable experience but also becoming frustrated as he wasn't able to grow as much as he wanted to.
"I worked in so many hotels where things were systematic, there wasn't any room for me to grow. I'd get there and never get to show my craft which irritated me. That's not who I am. I'm too creative for this."
The idea for Junk Park was planted in 2019 after a friend called Tyson asking if he was at the markets. "A friend of mine hit me up and asked me if I was at the market and starting my own thing. He said if I ever do my own thing to please let him know, he wants to be the first to be there and see it because he knows my hustle and believes in me." This kickstarted the thinking around Junk Park, with Tyson starting to plan how he would implement the restaurant.
The final push came in 2020 when Tyson returned to work in January after the holiday break to more of the same frustrations. "You're constantly doing the same thing but you still want to grow. But you're not because you've done everything that there is to do there and you wonder what's next? That was me in January. So I quit my job!" Tyson explains. Having quit his job just before the first lockdown hit, Tyson had to dip into his savings, and together with investment from his business partner, he started Junk Park, focusing on marketing via social media to get the word out and entice people to try his offerings once the lockdown allowed.
"All I saw on social media was how people were craving KFC and Chicken Licken, so I was like, how am I going to do this, I'm selling the same product?" Tyson remembers. 
The unique ideas Tyson brings to Junk Park are what has helped it grow rapidly in popularity, with the menu featuring well-priced products that are still of high quality and innovative combos that offer a taste of everything from burgers to wings. Another unique Junk Park offering are the in-house sauces that you can't find anywhere else. "The sauces that we use are something that people have never tasted before. I created them from scratch," Tyson explains proudly. It is these personal touches that make Junk Park special and stand out compared to other fast-food restaurants.
Tyson explains that the name Junk Park is a reference to early feedback he received while developing the menu, which was described to him as filled with junk and the fact that parks are a meeting place for any occasion. "No one goes to the park to eat a salad!" Tyson laughingly says when asked why the two are a good fit.
Starting Junk Park in the middle of a lockdown
While starting his business at the beginning of lockdown presented many unique challenges for Tyson, it has also allowed him to focus on making it self-sustaining during such a difficult time so that the business can deal with the repercussions of changing regulations without struggling. "It's been tough convincing people that you sell a good product that can compete with other people. Once we started getting into it and we started understanding it, we started growing. We tried to figure out a way of getting our business to sustain itself so we don't have to worry about the knocks but instead focus on what we want to create."
With his first introduction to Yoco around 2018 when he was working at the Neighbourgoods Market, Tyson decided then that he would be using Yoco machines when starting his own business as it made perfect business sense. Explaining why he uses the Yoco Neo, Tyson says "I understood how it works, how easy it was, and I didn't want to rent a card machine. And it came at a very cheap price!"
When it comes to motivation, Tyson says he learned a lot from the younger generation that he inspires since he didn't have an inspirational figure growing up. Being able to leave behind a lasting legacy that benefits those coming after him also adds to this feeling.
He also credits his children and partner for motivating him saying that "If you want to succeed in life you must have the perfect partner and I really have that".
Tyson takes pride in the fact that while still growing, his business can change other people's lives. "Being able to feed so many families in such a small space of time, that's the thing I look up to. I don't think I've actually gotten to a point where I can say I've achieved much, but that step for me is the most important, growing the people around me."
While Tyson is happy with where his journey has taken him thus far, he stresses that this is only the beginning, with plans for expansion in the future. "We want to expand, maybe Pretoria or different provinces. Touch on every scale in South Africa. And one day take it globally". Tyson also wants this growth to aid the development of those working with him. "I just want to expand and create more job employment for the youth. Our whole business is youth-driven so we just want to inspire and introduce more youth into the business game. I don't want to see anybody at Junk Park for 10 years. They should all start their own thing like I was given my own opportunity. I owe it to the people that are part of my team."
Although Tyson wants to leave a legacy of his own, he is also working to uplift the image of Alexandra. "A lot of people see it as a negative space and I want people to see it as a positive place [where one can] rise through all odds".