There's a market for everything these days
From vintage threads to vegan treats, markets are awesome places for small businesses to reach new customers. As markets get more popular all over the country, how can a small business get in on the action and start selling at markets? And once you're there, how do you make as much moola as possible?
Find the right fit
You need to be at the right market for your product or service. Right place, right people. Otherwise you won't get the return you deserve.
Do your homework. Check their social pages and see who's attending. If you can, visit the market yourself and speak to people. See if there are similar stalls to yours and whether they do well. Talk to the organisers of the market and find out about logistics, costs and ask them for advice. If there aren't any stalls similar to yours, that might mean there's no interest in your product. Or maybe it's a gap that presents you with an opportunity. Ask your customer base if they'd like to see your products at a particular market.
Make your move. Once you decide you want to sell at markets, get in touch with them. You'll be able to contact the organisers through their website. Many markets, like I Heart Market, will have a tab on their website where you can apply for a spot. Social media is also a great place to reach out. Most markets are active on their social pages, building relationships with fans and engaging stall owners. The market's social media manager will point you in the right direction.
What to do before the market
You'll have your hands full getting your products ready. But it's a good idea to get certain things and get a head start before you start selling at markets.
Start marketing yourself a few days beforehand. Most markets have a Facebook event. Sharing images of your products on the event page will make sure people already interested in the market will know about you. Plus, it's fast and free. Don't feel awkward about 'bragging' about your business. Sell yourself. Your work is awesome and people need to know that.
Plan your stock carefully. Knowing you could have sold more if you had more stock is bad. Having to throw out food you couldn't sell is worse. Plan by finding out how many people are expected at the event. You can ask the organiser or by checking the Facebook event page. Then check the weather. Consider how it may affect people's buying behaviour. Are you going to sell as many leather jackets if it's super hot? Are you going to sell as much lemonade if it's freezing? Adjust your approach and stock accordingly.
Sort out your point of sale and payments. Put the 'sell' in selling at markets. You're here to make money. A few people still like paying with cash, so make sure you've got some change and a safe place to keep your money. Most customers will want card payments, so make sure your Yoco portable card machine charged up and ready to go. Also be sure to add your items to your Yoco App (or any other point of sale system) for fast, easy checkout and tracking.
Finalise the nitty gritties. Think things through from setup to take-down. Make sure you can answer the type of questions your mom might ask you.
Do you have a way to cover up if it rains?
Does your food truck need power?
Do you have a table and chairs?
How about clear signage?
Check with the organiser beforehand to find out what they provide for you. Must you bring your own table? What about signage? Also make sure you know exactly how much space you have for your stall and whether there's parking for you.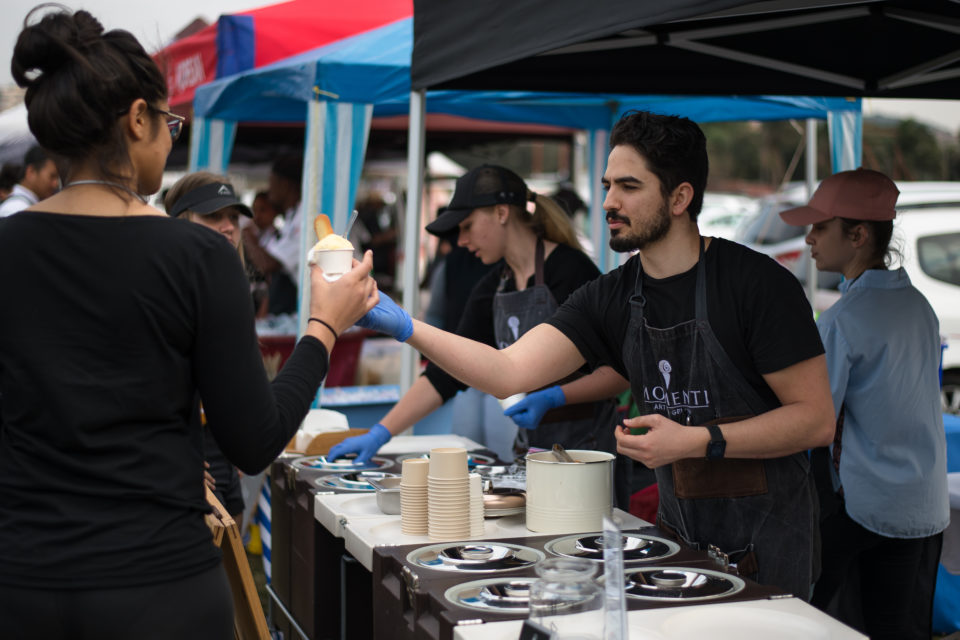 Little tricks to make more moola
Once you've found the right market and done your homework start to focus on how to make the most impact on the day.
Get creative with your display. Think about how best to display your merchandise. When things just lie flat on a table, customers might not notice you. If you don't have enough products to fill your space, share your stand with a friend.
Pinterest is a great place to find inspiration to make your stand pop. But remember, you don't need to be super fancy. It's more important to look smart, clean and organised.
Consumable freebies. If you're selling food, free samples will get people to your stand. And if they've tried, maybe they'll buy! Even if you're not selling food, offering cheap treats as freebies will draw people in. At the very least, they're more likely to leave with a business card.
Special offers. There's a craft to selling at markets. Business owners worry about specials because of profit margins. Be creative with your specials because you can increase your sales without hurting your margins too much. For example, give people discounts when they buy two or more items from the same category.
The party starts after the market. Have flyers and business cards to hand out. Be prepared to take custom orders or add people to your mailing list. Let people know which other markets they can find you at. And use your time at the market to take great pics for your social channels!
Be a people's person. Putting yourself out there can be scary. If you're new to it, watch what other traders do. It never hurts to smile at people, make an appropriate joke or give a casual compliment.
Most importantly, don't be on your phone! If you seem disinterested, people will be less willing to connect with you at your stall. Meaningful human contact is your best chance to make a sale.
Check these markets in Johannesburg, Durban and Cape Town below.