Just a few weeks ago, almost every small business owner in South Africa realised that their business would be sidelined by the nationwide lockdown. For many this meant no income for three weeks, now extended to five, while fixed costs like rent, service contracts and debt repayments remain.
This has lead to negative income on the business side, while expenses on the personal side continue. On top of that, there is the emotional strain from fearing you may lose something you have dedicated your life to. And there's the likelihood of having to retrench your staff and and let go of suppliers, knowing the impact this will have on their lives and families. It is a lot, if not everything.  
By connecting with our community of small business owners directly, and by keeping an eye on the local economy and small business movements, we have seen the majority of South Africa's small businesses completely stop trading since lockdown – a hard-hitting fact, backed-up by our internal quantitative data: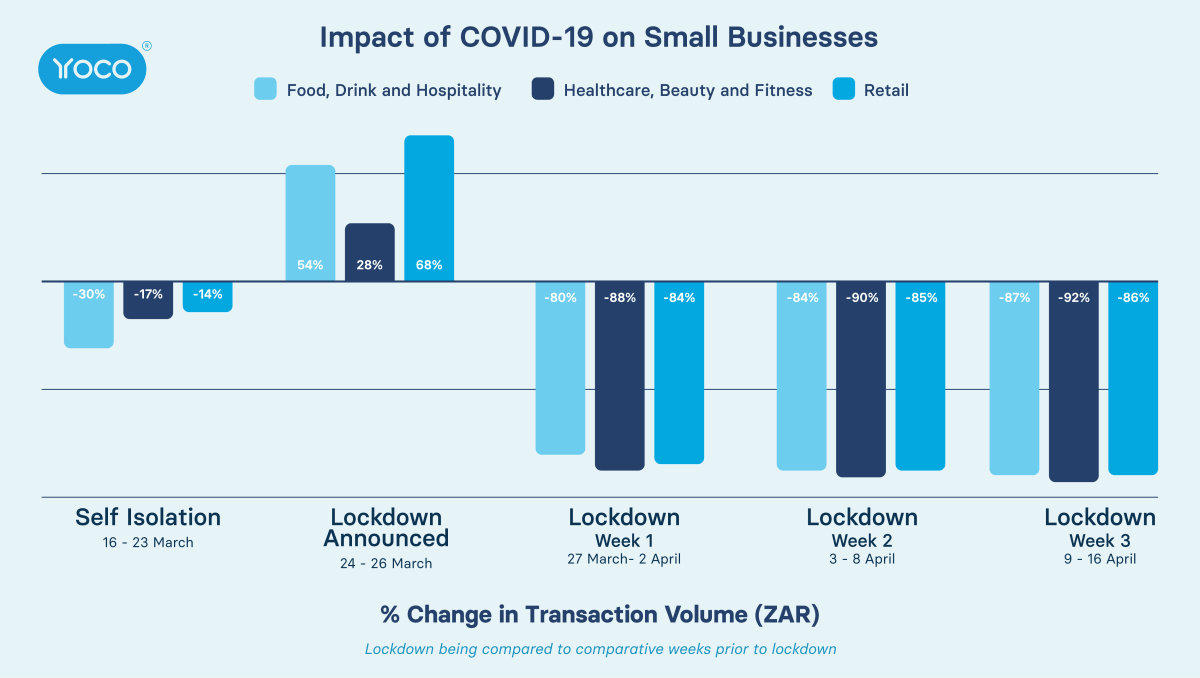 Overall this is a disheartening, yet very sobering message. However, if you look at the market from a slightly different and optimistic angle, you might see what I see. Something inspiring and exciting: an energetic surge of small business innovation. 
While lockdown has some devastatingly negative effects on our economy, it is also driving people's creativity. This is forcing focus and new ways of thinking about how one can generate money, even during lockdown. Some owners are even navigating their businesses into a better position post-lockdown, compared to where it was before the crisis even started. 
The increased constraints imposed by lockdown, has driven creativity for these innovative merchants and lead them to change their offer and address a different need. Whether consciously or not, many business owners have reshuffled their assets to reinvent themselves and their businesses. They are using the same sources to create something new. 
These small business owners have asked themselves:

What can I do with the skills I have?




What do people want and what is still allowed?

How best can I use the spaces I rent or own, redirect my staff, or use my distribution channels?




How can I leverage my connections, my brand, my marketing channels?

And if I am missing a piece,

who can I partner with?
To show you what this looks like, we have collected a few inspiring real-life lockdown stories to share with you.
1. Alexandra Edwards & Kieran Chant O'Flaherty from Plett Produce
From elephant snacks to fresh produce delivery.
"My partner and I started Plett Produce the first Saturday of the lockdown. We realised very quickly that because there wouldn't be any tourists in the area – that the demand for our fresh produce would drop. We supply veg to the nearby elephant sanctuary. Luckily Alex and I both have an entrepreneurial spirit so we came together and developed this new venture! We partnered up with neighbouring farmers and agreed that we would post their fresh produce on our website and deliver it to customers along the Garden Route. We source produce thrice per week and present the week's harvest on our website, Facebook and Instagram, then deliver to their homes."
– Kieran
Every week their harvest is different, depending on their supply. Kieran and Alexandra reassessed their assets and identified a new demand and customer base, then developed their distribution channel. And so, a new venture was born!
If you are in the Plettenberg Bay area: Plett Produce has connected with a certified dietician and also provides beautiful recipes with their deliveries, nomnomnom.
2. Jean Rene Onyangunga & Ansie van der Mescht from Dr Pachanga
From high-fashion and handbags to facemasks.
"With the announcement of the lockdown we had eight staff, we just invested in two more stores, we couldn't sit back and afford to pay staff. We had to find a way.
We have seen people wear a lot of masks in Asia, we looked at the research, and how Asia tried to minimise the impact, and everyone wears masks, even now still. We gathered information from doctors. Our masks are not medically qualified, but they will help people avoid touching their face or coughing on someone, there is a barrier.
The handbags we design are limited editions, but I am a hoarder and have been saving all the left-overs, and collected a bunch of fabrics. Then we decided to work with a team of sewing ladies, also in Cape Town. We were planning to work with them on the Spring range clothing line. We help ourselves, but it also creates income for the sewing ladies. We also started donating first into the Solidarity Fund, now FEED SA, and we provide discounts to the health sector. We aim to stay afloat, but support as much as possible. We are now working on doctors' scrubs as well.
It is an interesting experience where you have to shift, you have to make the best of the situation. I didn't study fashion to make masks of course. We are really thankful for the support, it makes a big difference, collectively it goes a long way.
Soon we will be needing more staff support, because lots of companies are now asking for large orders as well. Hopefully, we can get manufacturing back on its feet. Which is positive for the fashion industry, the industry has a new mindset, which I hope we keep after the lockdown."
– Jean Rene
Dr Pachanga is a high-end fashion brand specialising in vegan leather handbags, paired with the finest African wax fabrics for men's and women's clothing. They got sidelined by the lockdown as they are not an essential service. So they leveraged their stock of beautiful fabrics, their established brand, marketing channels, and previous partnerships to supply a new customer with a new product. Their new customers are accepting this novel offer, that may not be completely in line with the high-fashion brand. However, you will look pretty fashionable in the supermarket now, whilst supporting a small business.
3. Desiré Crowther, a South African artist
From gallery art shows to "a bunny a day".
"I thought, 'I have two choices: I can either sit and mope and be depressed about this and worry about where I get extra income, or I can utilise this time to rather benefit myself and the community.' I realised that when you have been given a talent it's your duty to share it, because it provides joy and inspiration and hopefully, in a small way, I've added a little bit of value to people in this period.
I first thought I'll do a series of little animals, like a guy holding a little piglet and a lady loving a little kitten, a lamb, a little bunny. I had a few blocks of wood left from a previous exhibition which I had done almost a year ago. I had about 12 pieces left. And I thought, 'Well, we'll be in lockdown for 21 days so maybe this is what I should do. I have some other pieces I can paint on for the remainder.'
The next day I said to myself, 'Hang on, its Easter, the bunnies are so cute and let me try the bunnies, simplicity, no people in.' It's a little sweet spot, it resonates with people, it keeps them busy in terms of the fact that we are going towards Easter, and Mothers day. We are all sitting inside and it will maybe create a bit of entertainment, as well as to see what this artist is up to every day and what's going on in her mind. So, it was that sort of angle, as well as the fact that my art, normally is R2,2 for a piece like that. So I thought you know what, this is a branding exercise, so get as many bunnies out there as you can and at the same time you are branding your name, people get aware of you.
I also explored the art class online, but in order to do the online classes I had to have a good internet facility and I don't have that and that takes time but is coming soon! So I thought: short classes, half an hour, maybe an hour. Every day I'm going to make it available, really affordable to everyone in the world, just to give them a bit on how to do it, how I see colour. Helping people to be brave and bold and not allow fear to drive you, because we all have a bit of a creative talent hidden inside ourselves, and it's wonderful if one can explore that and its hella therapeutic and good for the soul and good to realise you can create as well.
Basically we are stuck here for a couple of other weeks, personally I think it will be another few months. So I dont know where I am going to get my canvases from, I'm going to see if I can have it delivered here or something, because I'm running out of stock. But it has been really fantastic, I'm actually really loving it. As an artist you are always kind of in lockdown mode, alone in your own space and in your own mind, so to me this is just another day." 
Desiré has shifted her business from mainly offline to fully online. Her Bunny-Art (R850 per piece) has increased general accessibility to owning an original Crowther artwork from an exceptional moment in time, and her art classes are a new way of utilising her talents to create new income.
She has shifted from a longer term approach to a faster translation of her talents into revenue, an entrepreneurial shift and bold move. Desire has also turned her house into an art gallery and is showing her pieces, through Instagram stories and is holding online auctions. Follow Desiré on Instagram to learn more about her as an artist. You might even be tempted to become a Bunny-Art owner (delivery after lockdown)!
4. Arabella Parkinson, Eat to Thrive
From private chef to virtual pantry-guided cooking classes
"Eating well and living a healthy lifestyle have been a passion and priority of mine since I can remember. As a chef, my business has had to shift from a very mobile and physical service to the online world. Through offering virtual cooking classes that teach people how to create healthy food with what's already in their kitchen, it has allowed me to expand my reach. What I initially viewed as constraints, quickly blossomed into avenues for creativity.
I believe people know what they need to thrive but struggle to implement this knowledge into their busy lives. That is why my health coaching program is such an integral part of what I do. I teach people to cook, and how to integrate this knowledge. This lockdown has made me focus on helping my clients develop healthy habits they can maintain post lockdown, all through technology. Business as usual, through a different lens. All it took was a shift in perspective, creativity and the ability to adapt and change with the times."
Arabella has used her holistic lifestyle brand to create access to plant-based food and health coaching. She has leveraged her knowledge and experience of making healthy food and her intuitive cooking talent.
Before lockdown she worked as a private dining chef, with retreats hiring her for her beautiful and healthy food cooking skills. Now she connects with a new international customer base who all enjoy learning to eat healthy, using food already in their pantries. Arabella asks clients to share what they have in their pantries and uses WhatsApp video to guide them through a recipe customised uniquely for them.
Arabella can now empower anyone to make healthy food straight from their pantry, lockdown or no lockdown!
5. Adam Duxbury & Joshua Meltz from Granadilla
From colourful swim shorts to vegetables, kombucha and sourdough bread
"Found out that isolation was starting, we got a fright, and then reality sinks in: the business won't be doing as well as expected. We also have a kombucha manufacturing factory (Sunn) which we were selling at the Oranjezicht market, and the Oranjezicht Market is not trading anymore. In an instant we realised we could help the small businesses that normally sell at farmer markets in Cape Town. We created a new mission: help small businesses sell their products online so people can stay safe and stay at home.
We started with farm products from local farmer markets. Then we started onboarding some other products as well. We had a very fortunate situation that we had these two brands (Granadilla and Sunn) and that we could put their assets together: an online business + a food processing business.
Granadilla is currently an empty warehouse, closed and locked now, and not physically used at all for this business. However, Granadilla's biggest asset is the brand, and secondly, and its website and online fulfillment processes. The rest is Sunn – that has a sanitary food processing plant with cold storage and lots of space for social distancing at work.
First, we went down the route of veggie & fruit boxes: we started with some surveys – so much is changing, we have to connect and see what people want, and people said that they want to choose their ingredients, otherwise they still have to go to the shop for the rest. So from this week we will have over 20 brands on our platform, all exclusively local small businesses. Now we are going towards a full-fledged online food market. Including an evolution towards home care products.
As quickly as we can, we are now onboarding new suppliers, all small businesses. It has become much clearer to us: we need to move towards an online market platform for small businesses. We expect to keep it going after, there is still a place for this business after lockdown."
Adam and Joshua are creating new partnerships, working towards a new purpose, as a strategy to deal with the fact that they got sidelined with a non-essential product. Through their actions they have created a completely new venture by leveraging all their assets; from logistics partners and cold storage food packaging facilities, to a great online following, across the two businesses.
They have replaced the part in their model that became obsolete with their new partnerships. As we saw with Dr Pachanga, they are now offering products and services outside the original expectation of the brand and company. Yet they are thriving and supporting many small local farmers and other small businesses who do deliver essential services, but do not have the brand or channels themselves.
Online Payment options with Yoco
As per the examples above, and in general, we have seen many small businesses work hard to keep connected with their communities and trade online. To support all businesses we have accelerated the release of several new digital products which aid online payments: