Mpumelelo Mtintso is the founder of Book iBhoni, a bicycle tour company in Soweto that doubles as a book donation drive for rural libraries. Soweto is famous for its history, but Mpumi prefers to focus mostly on sharing the township's abundant success stories. Inspired by the students leading the #FeesMustFall movement, Mpumi vowed to help address the current education crisis, by actively honouring the heroic youth of Soweto's past – in word and deed.
Growing Up in Soweto
Mpumelelo Mtintso was born in Soweto, and raised by one of his grandmothers. He grew up with thirteen siblings under one roof, because his grandmother was always taking in children who needed shelter. Blood relation was of no concern to her, and Mpumi says he feels blessed to have grown up with so many brothers and sisters.
However, one of Mpumi's uncles was a notorious gangster, so his grandmother decided to move the children to Orange Farm, near the Vaal. "We finally had to move, because my uncle had so many enemies in Soweto that our house was burned down twice!" Mpumi says, "I'm really glad my grandmother removed us from that situation, because our lives could have turned out very differently."
Communal Cycling Club
Having access to a bicycle represents independence and endless possibilities for any group of mischievous youngsters – Mpumi says, "All we wanted for Christmas was a bicycle: it gave us so much freedom, and of course we were naughty and would disappear for hours! My gran knew if she bought two bicycles for the whole 'squad', then she was done buying gifts for a long time. These were our family bikes, and we always shared."
Courtesy of yet another fierce, female guardian, Mpumi was invited to stay in Havana with his second mother, who was the ambassador to Cuba. "She said she was going to take me away, because I was too naughty for my granny," he laughs, "So, I went to the International School in Havana for a few years. Can you imagine, a kid from Soweto, who's never been on a plane before, who can't really speak English never mind Spanish? In the end I came back, mostly because I was missing my grandmother too much."
Book iBhoni is Born
Mpumi struggled to choose a career after finishing school, and felt himself drawn to social issues and the ongoing plight of the South African youth. "In 2016, #FeesMustFall was the hottest topic, and it really touched me and made me think. I believe we don't read enough as a nation, and we're not learning enough from our past. So, I started without any bikes at all, but I had this one burning idea: give people discounts on Soweto tours if they donate books for local libraries."
So, Mpumi started without access to financing, borrowing bicycles where he could, and a friend helped him set up a little gazebo next to the road. "I didn't even make a profit but it didn't hurt at all! After the first tour, people noticed us, and I was asked to talk on the radio and even primetime news!" He chuckles, "Then I realised, I really need to get bikes – sharing will only take me so far!" So, he began slowly accumulating a fleet for himself, and today he has over thirty.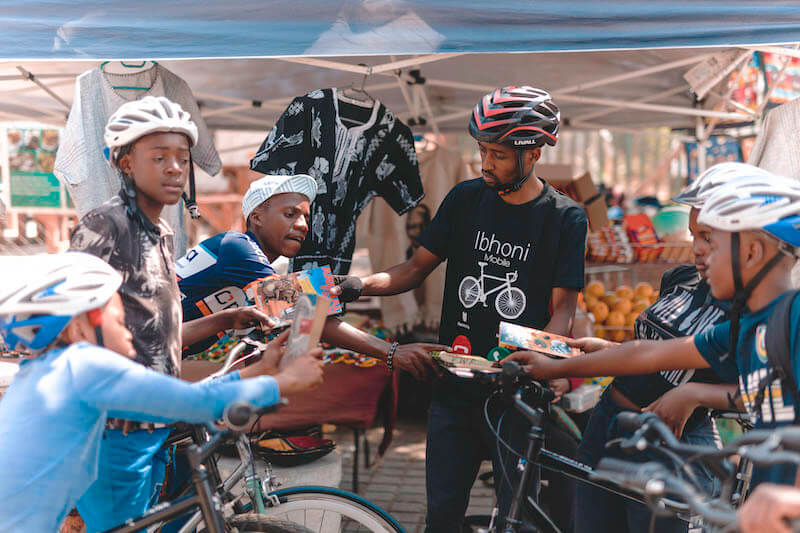 The first Book iBhoni delivery was a big moment, and many had donated books and pledged to help cycle them to the designated library. But on the day, nobody pitched – so, Mpumi and his best friend Sammy rode it alone: "The plan was to cycle from Vilakazi Street all the way to Orange Farm (about 40km), and get a lift back. We had sports bags strapped to our backs, packed full, because we promised to bring the library over 100 books!" But, when they finally made it to the drop off, their lift had broken down. "When I eventually managed to cycle home, my grandmother said, 'Mpumi, I love you, but what are you doing?" he laughs, "I said I would do something and I did it, and I felt very good about what we achieved!"
The Tour
Victorious Vilakazi
The tour starts in Vilakazi Street, with the first stop at the Hector Pieterson Memorial Site, where Mpumi gives local volunteers the stage (and cash tips), to share their insights about the Soweto Uprising. "They discuss the tensions that were building from 1972, and the details of the massacre that erupted here on the 16th June 1976 – which would ultimately take the lives of over 500 children." Mpumi also shares the story of one of the first victims of the Uprising, Hastings Ndlovu, a 15-year old murdered on his way to school.
Mpumi says, "We first get the sad part of the tour over with – it's part of our history and it has to be told. I believe Soweto is what it is today, because of that youth movement." Next, the tour heads to Nelson Mandela's first Sowetan refuge, the home of Walter Sisulu, and they spend some time at Archbishop Tutu's family residence. Here, Mpumi takes a moment to reflect on the immense work of our beloved Nobel Prize winners, both with homes in this now renowned, humble road.
Orlando East meets West
They cycle to the Orlando Towers, originally a coal cooling facility, but now an adrenaline junkie's dream adventure center. Then, they pass through the community of Nomzamo, Mpumi says, "The area is badly underserved and underdeveloped. I don't like showing off people's living conditions, but I like visitors to know where their books and donations are going." Through coverage from his tours, the Nomzamo Children's Center has been receiving regular donations of groceries and gas to power their stoves.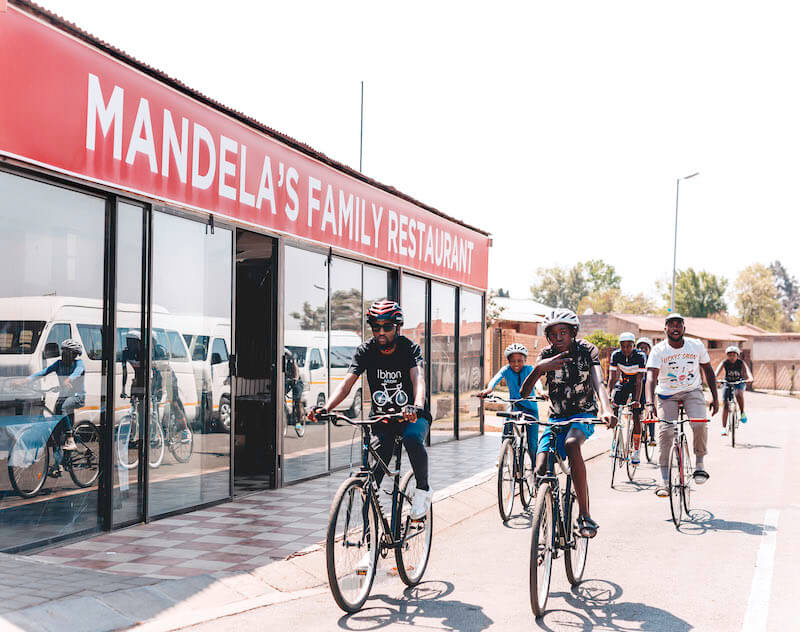 Golden Soweto
Next stop is the Soweto Brewing Company for a refreshing five-part beer tasting – including the iconic Soweto Gold Premium Lager and Orlando West Stout. They also visit Winnie Mandela's house, which is not yet open to the public, but thankfully Mpumi is very well-connected: "I'm good friends with one of Winnie's oldest bodyguards, so he shares these amazing, personal stories of her life."
The final stop is warmly called Orlando West Beverly Hills. "It's the first posh area in Soweto," Mpumi says, "These days, successful people are coming back, and the new generations of ambitious Sowetans are not leaving either." The tour finishes back on Vilakazi street, where Mpumi encourages everyone to take their time to fully experience the Mandela House Museum.
Book iBhoni and Beyond
Mpumi has big plans for the future: "I've now partnered with Livall to use e-bikes, and we're planning to open a shop in Soweto, where we'll sell bikes, helmets, great coffee and gourmet kotas." But, he says he wants to also help create opportunities in other historic townships across the country: "We have plans in Cape Town already. So, I want to mentor other townships, to give the tourists a reason to get off the buses, spend some money in the community, and have a positive experience of our culture."