Girl buys shoes; girl talks to boy who makes shoes; girl and boy start selling shoes together; girl and boy fall in love; girl and boy open studio and the rest is still unfolding. Nombuso Khanyile and Nisbert Kembo's story began in 2017, after Nombuso came across a stall of sandals in Durban's City Centre. Since then, the pair have grown their leather shoe and bag business, Afrikan Passion Designs, gaining recognition for their innovative business approach.
The start of Afrikan Passsion Designs
"We met in 2017. That's when I became a partner of the company. Nisbert started it," Nombuso admits over iced tea at Next Chapter. "We started working at the table by Smith Street. That's where I found him, doing his shoes."
Nisbert and his brother, Andrea Chico, began their shoe business informally in 2015, after moving from Zimbabwe two years prior. The brothers grew up in a leather making family. Nombuso and sister, Silindelwe Khanyile, began to learn the trade, joining the brothers' business. The business became an official vendor operation, with two additional pairs of hands, and a new identity: Afrikan Passion Designs.
Having grown up in Ulundi, Nombuso moved to Durban to attend UKZN in 2016, in order to study a BSc in Biochemistry and Microbiology. For two years, she immersed herself in academia in pursuit of a grand ambition: "I have always had this dream of finding a cure for HIV," she explains. "Being a kid and living with people who were HIV positive, and actually being exposed to nature and seeing how trees can help cure some diseases, that sparked this interest in me to pursue finding a cure for HIV."
When she came across Nisbert and his designs, she saw an opportunity that would assist in building that greater dream. Her school work was strategically split into part-time studies, to enable her and Nisbert to work on their products.
Pros and cons of working in love
After starting as business partners, their relationship blossomed: "We actually started dating in 2019, February," Nombuso states. "We understand each other. We work perfectly together. We communicate about each and every thing," she continues, "If I'm angry, he tells me."

Through good communication, they are able to address issues: "We understand every challenge and we tackle it together. We get to create together. We understand our target market more."
A typical day is to, "shower, eat, books, see our orders from yesterday, maybe buy material if there's no material, start working the whole day," elaborates Nombuso.
Nombuso is confident in their abilities: "We are both talented. He is the one who taught me how to make my first bag, my first pair of shoes. I learnt everything from him," she confesses. Adding that, spending the majority of their time together allows them to work on designs and focus on business needs.
The recipe to what they are cooking is working, as the results are evident in Afrikan Passion Designs' recent accomplishments.
In 2019, they won the Durban Youth Innovative Business competition at the Durban Business Fair. "We had to pitch our business and explain how it is innovative since we use recycled car tyres as soles. We also have bags, 100 percent recycled made from plastic, leather and tyres," says Nombuso.
Later this month, Nombuso will travel to Cape Town, under a Design Indaba mentorship, to exhibit their work. "It's some sort of validation that our work is going places," says Nombuso.
By applying to calls for entries, Afrikan Passion Designs is actively seeking opportunities. "We are applying to get into DFF Emporium, perhaps Woolworths one day," Nombuso informs me. No door is out of reach: "We are hoping to go to African Fashion Week in London. The applications are open. We are hoping they will take us to exhibit our products in August. We are crossing our fingers."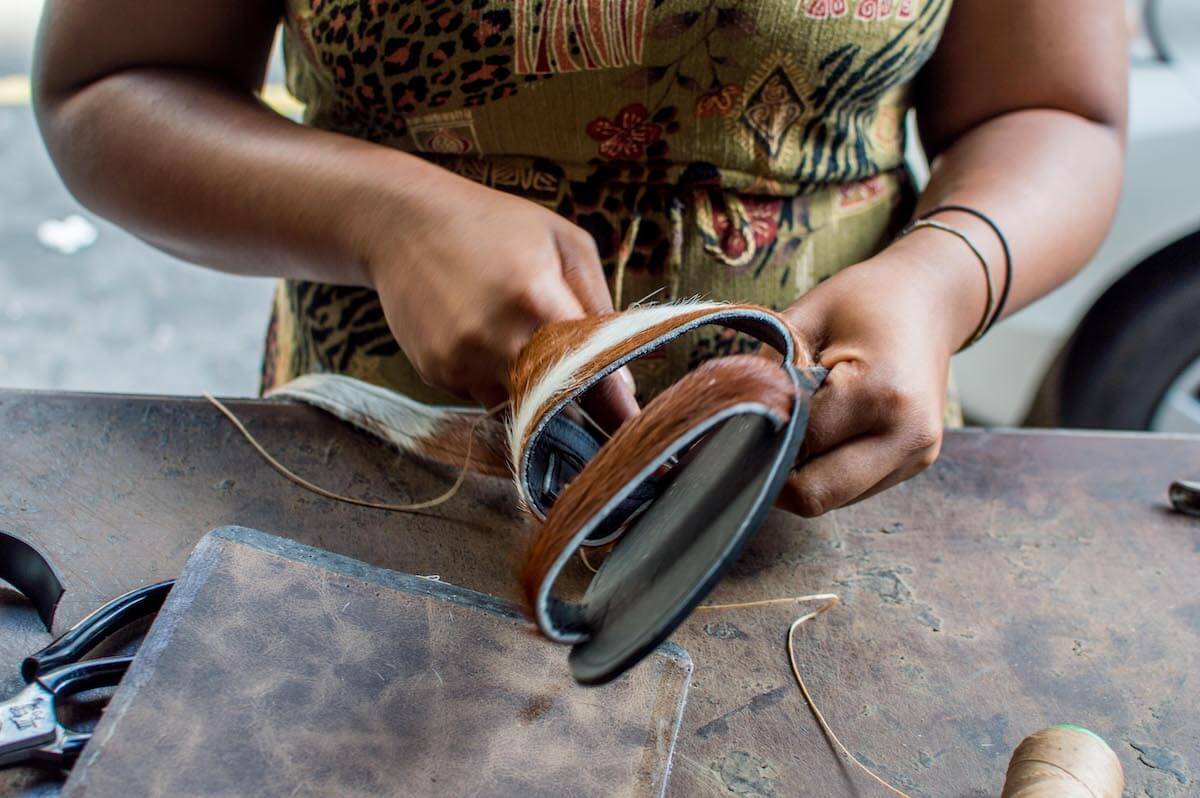 Nombuso's ambition and Nisbert's talent provide their business with extra flair. They want to change their means of production because they are aware that trends need to be environmentally conscious. "This year we are looking into using vegetan, leather dye, the organic one. It's our aim to go greener with our products," says Nombuso.
Chemicals such as chromium, used to dye leather, are toxic for the environment. The move to a more sustainable practice, such as vegetan, would be in line with their vision. "Leather takes about 40 – 50 years to biodegrade. It's part of my plan to use micro-organisms that can actually digest leather faster," explains Nombuso. "It's up to us to create sustainable products from low-cost materials."
There have been a number of difficulties in running a small leather business. "Who buys sandals in winter?" Nombuso laughs. "We struggled last year. In winter people buy mostly bags, not sandals."
Being a couple has been the easiest part of their venture. External prejudices have proven to be difficult, and the issue of xenophobia is something Nombuso is outspoken about: "Can they see us as inspiration to work with our Zimbabwean brothers? He's from Zim. I am from South Africa. He can't even go to town to buy material. I have to be the one who does it."
Other unfortunate events, such as being robbed, have tested them. "Last year we lost everything. Everything was stolen," she remembers, "From tools to every shoe. We had to start over." Luckily, Nisbert and Nombuso have their families' support, and they were able to contribute to rebuilding.
Throughout Afrikan Passion Designs' business journey, they have noted the power of social media. "Never underestimate the power of Google research!" exclaims Nombuso.
Nombuso has watched other small business owners use Instagram successfully: "Brand collaborations, they are very powerful." She wants to work with local companies to gain clients and exposure: "People require experience. They want to see how long have you been in the business in order to take you serious," and social media makes you visible.
In their new space in Pioneer Place on West Street, the business can host gatherings to teach skills, invite clients for consultations, and employ workers. "It's time we take our business to new heights," says Nombuso. Next on their to do list is to open stores locally, and employ people, especially women. One day Nisbert hopes to open a leather school, and Nombuso wants to complete a PHD through their Afrikan Passion Designs. You can find their designs at various Durban markets such as I Heart Market,
The Eco Market
,
The Pearls Umhlanga Market
, on
Instagram
, and
Facebook
.